GRILLING durian might sound a bit bizarre to some of us, durian-crazy Pinoys, but actually our Southeast Asian neighbors, especially in Malaysia and Thailand, have been doing this for years. 
Since then I have been intrigued with how this unique way of preparing this thorny fruit would taste like. Then, I saw my brother Rodney's Facebook post last weekend about their grilled durian experience at Andy's Durian in Davao Crocodile Park's Kanto Grill.
I later found out during my visit to Andy's Durian that the owner is no other than our friend, photographer and now, durian entrepreneur Roland Jumawan, who also named his new endeavor after his youngest son.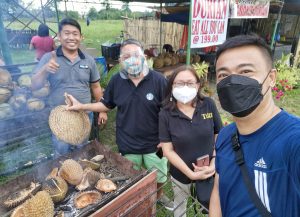 "We offer Native Malagkit, Davao Selection, Kob Yellow, D101, Chanee, Duyaya and Puyat varieties available, which we source in farms in Tamayong," he said. 
To grill durian, according to Roland, the entire fruit must be placed over burning charcoal until the husk is charred. The fruit is then turned from time to time to ensure it's fully cooked. But how do you know it's cooked?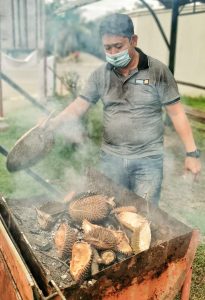 "After around 20 minutes, the fruit's thorny shell would crack open by itself," he said. 
After taking my first bite of grilled durian, I noticed the fruit's flesh a bit moist with a creamier, sweeter and slightly smoky flavor.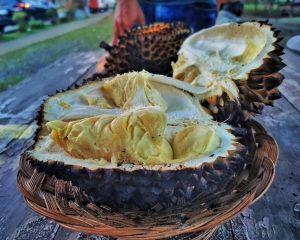 We also noticed that grilling got rid off its pungent odor, which is favorable to those who love eating the fruit but hate its notorious aroma. 
Grilled durian is sold at Php70.00 per kilo, plus an additional Php50.00 for grilling services.
Aside from Grilled, Andy's Durian also offer Durian-All-You-Can for PhP199 per person. They also deliver fresh durian door-to-door at PhP80 per kilo and PhP100. 00 per tub. Simply call Roland at 0929 178 8115 for your orders.