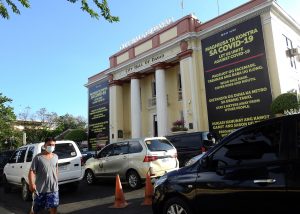 MAYOR Sara Duterte has extended the ban on non-essential government-organized activities in Davao City until December 31, 2021, amid the evolving coronavirus pandemic. 
All face-to-face non-essential events are banned from September 1 to December 31 including inauguration, anniversary, thanksgiving, ribbon-cutting, blessing, turnover, groundbreaking activity, launching programs, salo-salo, birthday, press conference, oath-taking program, photo opportunity, retirement honors, welcome honors, testimonial program, summer outing, team building, and all other similar activities. 
All the banned events are, however, allowed to be adapted to online platforms.
The mayor signed on Aug. 31 Executive Order (EO.) No. 43, series of 2021, otherwise known as "An Order Extending until December 31, 2021, the Regulations On All Barangay, Local, and National Government Office Events Including Government-Owned and Controlled Corporation Events". 
The mayor earlier issued E.O. 31, banning non-essential government activities, which was implemented until the end of August. The new directive applies to all barangay, local, and national government offices, agencies, and instrumentalities, including Government-Owned and Controlled Corporations (GOCCs). 
"There is a need to extend the provisions of Executive Order No. 31 Series of 2021 to regulate some activities that can contribute to local transmission in the city," she said. 
E.O. 43 also suspends all face-to-face non-emergency essential government activities including trainings and seminars but allowed only on online platforms. 
"However, offices may apply for exemption from the coverage of this section to the City Mayor's Office. The letter must include a comprehensive plan on how to execute their non-emergency essential activity without creating a mass gathering situation," the Order stated.
Exempted from the ban are all disaster and emergency activities including the distribution of financial, food, and non-food items.
The mayor also stated that non-disaster or non-emergency distribution of food and non-food items should be distributed house to house via contactless delivery by organizers or in a distribution system where no mass gathering is conducted. These activities are not limited to the distribution of livelihood kits, information materials, distribution of government aid, community pantry, food aid, and all other similar activities. 
She added, "All approved events covered by this Order are hereby suspended or modified accordingly."