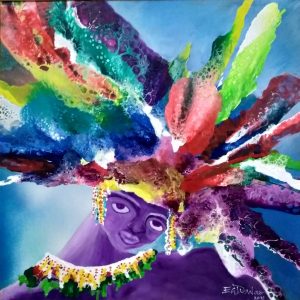 ON HER birth month of August, Davao's premier female abstract artist, Elenita Dumlao presents a retrospect of her distinct art style over the years and new works for her solo exhibition at the Foyer of the La Herencia Davao, F. Torres st,. With more than 24 art works of various sizes, she explores her abstract paintings from mixed media approach, to combined painting on printed canvas, and action painting techniques.  Her mastery of medium, theme and strong narrative can be seen in all of her works. Given a chance to talk about each art work, expect a story or memory behind the work as well as the reason of the chosen process and even medium used. Truly, an abstract artist who understands the demand of such art style.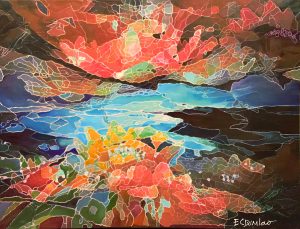 The exhibit is curated by Rob Tañedo, Art Coordinator of La Herencia Davao, who went for an off-wall approach to make the work closer to its audience and invite them to take a close look to each work of art. Mounted on easels than on walls, gives a different vibe and deeper appreciation since the work is closer to one's face and body that one gets more absorb to its details and technique used to achieve the final form. One of the highlights of the exhibit is the representation of the different art works of Elenita Dumlao over the years, with one of her earliest work in 1972, Banal na Hinagpis, which she loaned for this exhibition.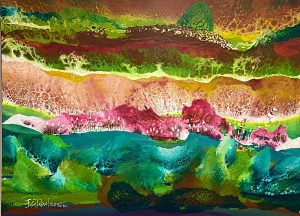 As a treat for her birth month, most of her works are given a special valued price to make an Elenita Dumlao art be part of one's home. There is an online catalogue for this art exhibition available for free at La Herencia Davao FB page for art collectors and art aficionados.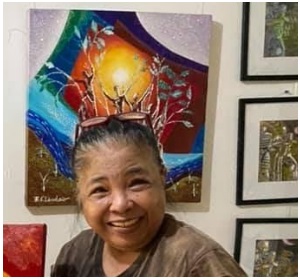 Live viewing is free but strictly by appointment only and following the Davao City's health protocol. The art exhibition runs from August 21 to September 5, 2021 and opens 9:00 am to 7:00 pm daily from Monday to Sunday.