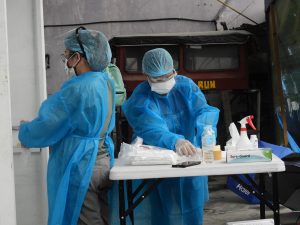 THE city government is implementing the ordinance that penalizes contacts up to the third degree of those infected with COVID-19 virus if they refuse to undergo a reverse transcription polymerase chain reaction (RT-PCR) test, said Dr. Michelle Schlosser, Covid-19 Task Force spokesperson, Wednesday.
"The final copy of the ordinance will be released next week, Schlosser told TIMES when asked on the specific penalties that are to be imposed on the violators.
Schlosser said the city council approved last week the law, "An Ordinance Providing For Mandatory Reverse Transcription Polymerase Chain Reaction (RT-PCR) Testing of All F1, F2, and F3 Contacts of an RT-PCR Confirmed Positive Case of Covid-19 in Davao City," and will be implemented after the required publication.
"Ipa-igting jud nato ang mandatory swabbing and mandatory isolation for those who are Covid-19 positive and those close contacts of Covid positive. Pasado na po ang ordinance providing mandatory RT-PCR for all F1, F2, and F3 Contacts of a Confirmed Positive Case of Covid-19 has already been passed, and those who will not submit to swab test will be penalized," she said.
Those who are covered by the ordinance are those who receive notification from the Safe Davao Quick Response code system, she added.
Another ordinance, the one that penalizes the business establishments for not implementing the quick response code scanning, has also been approved, she added.
The official said these two ordinances are necessary for the city to be able to curb the spread of the virus and that the public must follow these to avoid getting penalized.
"I am actually announcing this and informing this because we are tasked to enforce this ordinance. I hope mu-follow ang tanan because we do not want to penalize these people, and the establishment but then we are tasked to enforce this ordinance. So kung kinsa ang mo-violate, we are very sorry kay kani na ordinance is our mandate gyud ni siya ug i-enforce sa atong security cluster," she said.