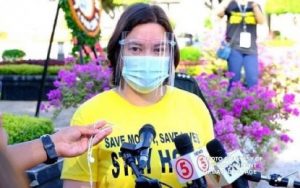 MAYOR Sara Duterte has confirmed the increase in the number of patients among those who are 19 years old or younger.
"Nagsaka ang cases.. most likely mao ning variants na gina-ingon nila mas infectious na nakaigo sa mga batan-on. All the more we have a reason na kinahanglan ang mga ginikanan and mga adult consistent sa pag observe sa minimum public health standards and magpabakuna sila if there are already given schedule," Duterte said on Monday.
Based on the city government report, there were 3,172 Covid-19 cases in the age group 10-19 years old and 1,823 cases in the age group 0-9 years old as of August 21. There were also 17 deaths recorded under the age group 10-19 years old while 15 deaths are recorded in the age group 0-9 years old.
The report added that a week span until August 21, there 146 cases in the 10-19 age group and 107 cases in the 0-9 age group.
The mayor said that the city government has already allocated pediatric isolation facility and is open to convert adult isolation facilities in case there would be a huge increase of children with COVID-19.
She also urged the public to be consistent in observing the minimum health standards and must get vaccinated.
She added that the people must also adhere to the policy of essential travel especially as the city is under the classification of General Community Quarantine (GCQ) with heightened restriction where travel of those below 18 and senior citizens, is discouraged.