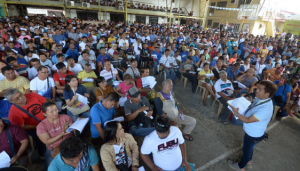 THE city government has urged public utility drivers and operators who will be affected by the implementation of the transport modernization project to apply for social packages in case they have not filed their applications. 
Norman Baloro, Presidential Commission for the Urban Poor (PCUP) supervising commissioner for Mindanao Norman Baloro, reiterated the call of the city government for those who are qualified to apply for benefits to visit the office of the agency and submit their applications.
"Palihog na muadto kita sa tama nga ahensya. Ang ahensya nga adtoan would be the HPBS office, which is located at Door 7, Magsaysay Park. Dili mo maulaw nga muadto didto, mangutana. Magpakabana, be informed sa mga programa, of course, naa man pod tay mga social media platforms," Baloro said as the call is directed primarily at those to get affected by the High Priority Bus System.
The official said he understands why some of those who are to get affected by the project are reluctant to apply for the benefits as they think it will not materialize. However, he assured the public that the project remains on tract as it is expected to be completed in the next two years.
"Bisan pag wala pa nila nakita ang buses, they should apply as early as now," he said, adding that beneficiaries will be able to avail of assistance that will help them in cushioning the impact of the project on their livelihood activities.
"Muabot man jud ang panahon nga naa (matuman na) kay man tay balaod, naa man tay city ordinance. Mao nang, samtang dili pata December nga rush hour, mag-apply nata para naa natay ready nga available nga pangalan didto sa atoang system,".Baloro said. 
On those who have submitted their applications, he said they must expect to be visited in their homes for verification and must answer calls from verifiers.