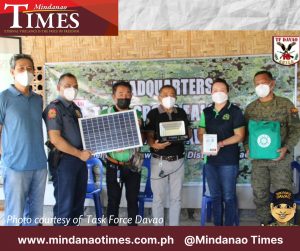 THE VIBRANT Helicopters Agriculture Spray Corporation (VHASC) turned over solar panels and thermal scanners to Task Force Davao on Aug. 19 to further boost the security efficiency at checkpoints.
Capt. Reynaldo Acosta, consultant of Vibrant/Manning Pilot representing VHASC, personally handed over the essential equipment to Task Force Davao commander Col. Daren Comia at the headquarters of Task Group Falcon in Sirawan, Toril this city.
Out of the four solar panels and thermal scanners donated by the company, two of these will go to the Lasang and Sirawan checkpoints of Task Force Davao. The other two will be installed at the Buda and Lumondao AFP-PNP checkpoints.
"We hope that our modest donation will help the security sectors. We hope makakatulong to sa troops sa field," Acosta, said.
Acosta also took the chance to commend his wife, First District Councilor Mabel Sunga Acosta, the peace and public safety committee chair of the Davao City Council who was also present during the turnover, for encouraging companies to help the military and PNP.
Comia, expressed his gratitude to the initiatives and generosity of the company. "These will go a long way because this will not only benefit the men and women of Task Force Davao but also the community we are serving" the grateful commander said.
Davao City Police Office (DCPO) director Col Kirby John Kraft, Public Security and Safety Command Center (PSSCC) head Angel Sumagaysay, Sirawan Kagawad Eddie Abubacar, Toril Police Station chief, Maj. Michael Uyanguren, 3rd IB Headquarters commandant, 1Lt. Ethelred Dayata, and Capt. Philip Dave Uddin, station commander of the Marilog Police Station. (Photo courtesy of Task Force Davao)