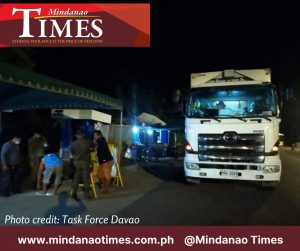 TWO INDIVIDUALS on board a ten-wheeler truck were arrested at the Sirawan checkpoint in Toril District on Aug. 17. 
Authorities arrested Jomar O. Salvador, 35, a resident of Lanas Dingras, Ilocos Norte, and Melvin C. Batanes, 42, of Barangay Biga Pitogo, Quezon. The two were heading toward Tagum City when arrested.
Seized from them was a sachet of shabu weighing 0.05 grams with an estimated street value of P800.
The suspects are now under the custody of the Toril Police Station.
Col. Darren Comia, Task Force Davao commander, reminded the public that even a pinch of illegal drugs is not allowed to enter Davao City.