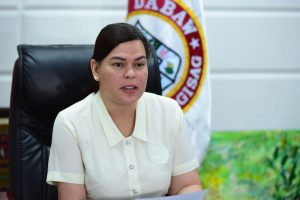 MAYOR Sara Duterte signed Executive Order (E.O.) No. 40, Series of 2021, known as "An Order Creating The Management Support Unit To Assist The Local Health Board In the Management of The Special Health Fund (SHF)" effective Aug. 12, 2021.
E.O. 40 cites Section 19 of the Universal Health Care (UHC) Act, which states that the Department of Health (DOH), the Department of Interior and Local Government (DILG), PhilHealth, and the local government units (LGUs) shall endeavor to integrate health systems into province-wide and city-wide health systems.
Section 19.9 of the Implementing Rules and Regulations (IRR) of the same law, which provides that LGUs that commit to province-wide and city-wide integration shall ensure managerial and financial integration and provide the needed resources and support mechanisms to make the integration possible and sustainable, was also attributed in E.O. 40 along with Section 19.17 of such IRR that also states that the City Health Board must perform additional functions under the Local Government Code of 1991.
E.O. 40 also cited the UHC Act's Sec. 19.18, which provides that the City Health Board shall create its Management Support Unit to assist its operations including the management of the SHF.
"There is hereby created a Management Support Unit (MSU) which shall be under the supervision of the City Health Board (CHB) to serve as the Board's administrative secretariat and to assist in its operations," Mayor Duterte said in her E.O.
The MSU shall be composed of an Accountant (Accountant II – SG16); an Administrative Officer (Administrative Officer II – SG 11); Liaison Officer (Administrative Assistant III – SG 9); and other support staff as required.
The mayor said the CHB shall either designate or appoint existing plantilla personnel from the City Government as part of the MSU. It may also decide to appoint, designate, or hire additional staff if deemed necessary.
The MSU, mandated to provide assistance in the management of the SHF and perform administrative and technical support, shall operate on available funds and resources of the local government, subject to the usual accounting and auditing rules.