AFTER around three hours of land travel from Davao City to the Municipality of Maco in Davao de Oro, we finally reached Barangay Mainit where Bilawa Hot Waterfall is situated. 
You'd know you've arrived in Bilawa when you see this massive steaming sulfuric rock formation that greets visitors and passers-by along the highway.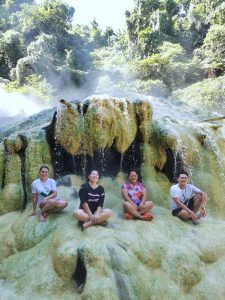 Bilawa was the first sto for the Department of Tourism Xl's three-day site validation for the development of a tourism circuit for Davao de Oro. 
The former Mainit Sulfuric Hot Spring was renamed in 2020 as Bilawa Hot Waterfall after it reopened following the protocols set by the Inter-Agency Task Force against Covid-19. 
"The Mansaka tribe has always called the place Bilawa, which means 'waterfall' in their language," said Mainit barangay captain Michelle B. Lim.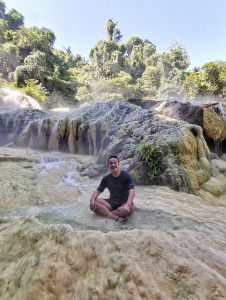 This unique combination of hot spring and waterfall is part of the 1,374 hectare watershed area situated 3,900 above sea level.
"There are more falls upstream but we only allow this portion to the public in order to protect its natural beauty," Lim added. 
Bilawa's hot spring is a said to originate from Mount Leonard Kniazeff, one of the 24 active volcanoes in the country, according to the Philippine Institute of Volcanology and Seismology.  The stratovolcano is located between the municipalities of Mabini and Maco. 
According to Davao de Oro provincial tourism officer Christine Torino Dompor, whose team accompanied our group during the trip, the waterfall complex has helped the local economy. 
"Aside from tourism, the complex is managed by the barangay while various members of the community are involved in the operations and preservation of Bilawa," she said. 
This includes local women who underwent training to render body and foot massage service to guests.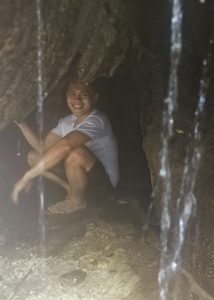 "The steam from the hot spring can help improve blood circulation, reduce stress, detoxify the body,and even help boost the immune system, especially in this pandemic," Prescila Decena, admin officer of the Provincial Tourism Office, said. 
She also taught us how to use the sulfur-rich clay as face mask, which can help make the skin smooth and healthy, and treat skin infection as well.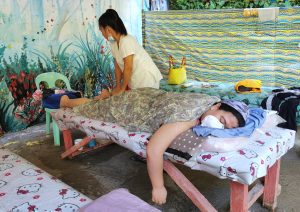 Bilawa Hot Waterfall is best visited either early in the morning or late afternoon, where the cold air pleasingly blends with the warm steam. The natural resort complex is now equipped with a sundry shop, toilet and changing rooms, and tables and benches for day tour visitors. 
The community-run resort is open to the public from 8 AM to 5 PM. Entrance fee is PhP5.00 for locals, PhP80.00 for non-residents, and PhP50.00 for senior citizens, students and persons with disabilities.