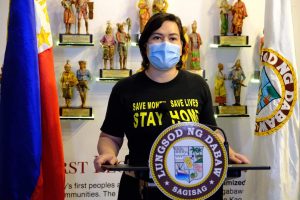 WHILE the Office of the City Vice Mayor and the city councilors are spearheading the mobile vaccination, Mayor Sara Duterte reminded the public not to wait in their barangays to get themselves inoculated. 
 "Mas maayo dili gyud ta maghulat noh kung kanus-a muabot ang vaccination team sa atoang barangay (It's better to not wait when the vaccination team reaches your barangay). If we can see there's a slot in the DQR scheduler diha sa atoang mga fixed vaccination sites mas maayo kung (in our fixed vaccination sites it's better for them to) immediately have themselves take that vaccination schedule para mabakunahan na sila (so they can be inoculated)," Mayor Duterte said during her 87.5 Davao City Disaster Radio (DCDR) program on Monday afternoon, August 16.
She said that Davaoeños can also avail of the vaccination through the sectoral vaccination, which is a partnership of the City Government of Davao with organizations and private offices and establishments.
The mayor said, "Pwede pud sila dinha if their sector is naay kaugalingong vaccination site. Dili ta mag advise nga maghulat (They can avail of it there if their sector has vaccination site. We are not advising them to wait for the mobile vaccination team)."
Mayor Duterte said after she requested the Office of the Vice Mayor (OVM) to put up its mobile vaccination team, she also turned to the city councilors and requested them to do the same. The OVM recently inoculated senior citizens of seven residential facilities of senior citizens in the city and the seniors and differently-abled residents in Los Amigos, particularly at the Gawad Kalinga for PWDs.
"We requested them to create their own teams," she said, explaining that these mobile vaccination teams will be a "set up and go" so they do not require an appointment with the DQR vaccination scheduler. These teams will prioritize the immunization of those belonging to the A2 and A3 priority groups being the most vulnerable to COVID-19. She said the condition of senior citizens and persons with comorbidities will worsen once they contract the coronavirus. 
 The sites for the mobile vaccination, according to her, will be identified by the barangays and they will set up the dates for the vaccination rollout. But at the end of the day, Mayor Duterte said, these mobile vaccination teams will pack up and move to other barangays once the dates are determined.
She added, "Hopefully ma-organize na na sila (they get organized) very soon. So kani sila nga mobile vaccination sites because ilahang target tong mga interesado magpabakuna pero (The vaccination sites' target will be those interested to get vaccinated but they) did not sign up and did not go to vaccination centers."
Mayor Duterte hopes that from the regular 10,000 daily first doses, the city can achieve its 15,000 daily targets of vaccinated individuals with more vaccination teams being mobilized for both fixed, non-fixed, and sectoral sites.