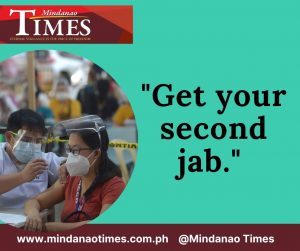 THE LOCAL government here is ramping up its campaign to encourage people who have taken their first doses to get their second jab to be considered fully vaccinated.
This would be an added protection against the ill effects of the coronavirus disease (COVID-19), Mayor Sara Duterte said.
During the interview on Monday over Davao City Disaster Radio (DCDR), Davao City, Duterte said that one of the challenges that the city is facing right now is the missed second doses as some recipients failed to return for their second jab for various reasons.
"Ginapakusgan nato ang kampanya sa second dose sa mga tao. Ang bakuna two doses dili siya one. Ang full protection sa vaccination is dapat kinahanglan makuha ang second dose. Naka-reserve nana daan para sa inyuha so it is very important nga fully vaccinated (We are strengthening our campaign for the second dose. The vaccine requires two doses. To get full protection, you need to get two doses of the vaccine. The second dose vaccines are already reserve for those that have taken their first dose)," she said.
Based on the data from the City Vaccination Cluster as of Aug. 14, 2021, there have been a total of 453,424 shots administered for the first dose while 297,201 were given as second dose.
Under the resolution released by the Inter-Agency Task Force (IATF) on Emerging Infectious Diseases, a person is considered fully vaccinated for COVID-19 if it has been more than or equal to two weeks after having received the second dose in a 2-dose series, or more than or equal to two weeks after having received a single-dose vaccine. 
Also, the vaccines administered to the individual should be included on the Emergency Use Authorization (EUA) List or Compassionate Special Permit (CSP) issued by the Philippine Food and Drug Administration; or Emergency Use Listing of the World Health Organization.
Experts said that completing the required dose by the manufacturer will help reach the vaccine's maximum potential. Thus, the city mayor urged Davaeños, who received their first dose of a COVID-19 vaccine to make an appointment and get fully vaccinated.
Recently, the city government has increased its inoculation target per day by 15,000 to fast track the vaccination rollout amid the threat of the highly transmissible Delta variant. 
It also plans to add more vaccination sites to cater to more Dabawenyos to achieve the target of 70 percent of the city's 1.8 million population.
"Nagadali tang tanan na ma-rollout ang mag bakuna and mabakunahan ang mga kaigsuonang Dabawenyo because ang fully dosed nga individual less likely mahimong severe or critical na case so less likely ma overwhelm nila ang ICU ug mga hospitals (We are expediting the vaccination rollout for the Dabawenyos because if an individual is fully vaccinated, our ICU and hospitals will less likely get overwhelmed)," Duterte emphasized.