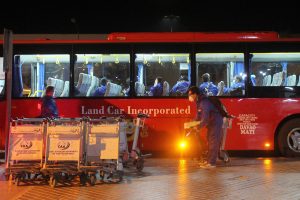 AT LEAST 120 repatriated overseas Filipino workers (OFWs) arrived in Davao City via the chartered Philippine Airlines (PAL) flight PR528 that landed at the Davao International Airport (DIA) at 8:27 p.m. on Monday, August 16.
City Tourism Operations Office (CTOO) chief Generose Tecson said the repatriated OFWs will head to different cities and provinces as their final destination.
As in previous repatriation flights to the city, she said the OFWs will be staying at the Bureau of Quarantine (BOQ)-certified and Department of Tourism (DOT)-accredited multi-use hotels.
"They will undergo a 14-day quarantine and will be released on the 15th day. They will be swabbed on the seventh day and if positive, they will be brought to the Van City for isolation and monitoring," Tecson told the City Information Office.
The OFWs presented negative RT-PCR results before boarding their Davao-bound flight since Davao City is strictly enforcing City Ordinance No. 0477-21, Series of 2021 or the "Mandatory Testing Prior to Entry into the Davao City via the Davao International Airport."
Tight security is also being implemented in quarantine facilities where the OFWs are staying to keep them from going around the city.
On August 6, 382 OFWs from Dubai in the United Arab Emirates also arrived in the city.
The OFWs' arrival is part of the national government's repatriation program for Filipinos stranded abroad due to the COVID-19 pandemic. 
Meanwhile, 14 repatriated OFWs (three from Dhaka, Bangladesh and 11 from Dubai) who arrived in Davao City on July 15 and 18, respectively, tested positive for COVID-19, but none of them was a Delta case. 
Mayor Sara Duterte previously said the repatriation flights not just help stranded OFWs return home but also help the city's hotels, being quarantine facilities, to recover their losses due to the pandemic.