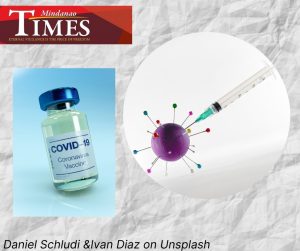 A TOTAL of 600 Overseas Filipino Workers (OFWs) and seafarers have pre-registered and validated for the 10-day drive-thru anti-COVID vaccination activity at the Matina Town Square.
Remo Amatong, the Mindanao head for operations of Marino Partylist, said the validated applicants for the drive-thru vaccination will start receiving their confirmatory text from the Marino Partylist–the main partner of the city government for event be rolled out today, Aug. 18, 2021, for the departing, returning or repatriated land-based and sea-based migrant workers. 
In an interview over the Davao City Disaster Radio (DCDR) Monday, Amatong said the pre-registration is still ongoing as there are still slots to be filled. 
"Sa atong pre-registration as of these weekend, naa natay 600 ka tao nakaparegister, na -validate, ug madawat na sila ang confirmatory text from Marino Party-list (In our pre-registration as of the weekend, we have 600 already been validated and they are set to receive a confirmatory text from the Marino Partylist)," Amatong said.
He added that they are aiming to inoculate 500 individuals per day for 10 days which means a total of 5,000 will be catered for the drive-thru vaccination. 
He said the OWWA (Overseas Workers Welfare Administration) had another set of validation yesterday afternoon, and on the days of vaccination on Aug. 18-19, Aug. 23-27, and on Aug. 31-Sept. 2, 2021.
"If you are only a legitimate OFW and you possess the documents required, we have a validation at Matina Town Square set this afternoon. The OWWA will be at the MTS for those who do not have supporting documents yet. For those who hesitate to register (for lack of documents), they will gladly issue an Overseas Employment Certificate to prove that you are an OFW," Amatong said.
Those who seek to register only need to fill out an OFW Vaccination Registration form through this link: https://forms.gle/WxGvijbA1UGY9CqR9.
The vaccination is open for departing seafarers within 30-60-90 days, active seafarers with Seaman's Book, departing land-based OFWs, returnees and repatriated OFWs, returnees and repatriated OFWs, and OFWs with proper documents proving their status.
For more details, the interested OFWs may visit, the City Government of Davao Facebook Page, PESO FB Page, and Marino Partylist FB Page.
No walk-ins will be allowed. Individuals who present their documents for validation on the day of the inoculation are not guaranteed to have their first dose jabs as only pre-registered and validated individuals are given priority.