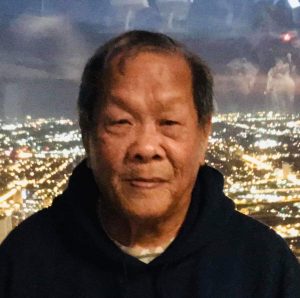 ALAM n'yo ba why many elderly do not want to go to vaccination sites to be inoculated?
One reason, as Mayor Inday Sara said earlier: "They might be bed-ridden or suffering from illnesses." 
That's why she thought of a door-to-door anti-COVID mobile vaccination to reach out to those with comorbidities who are the target priority group. 
As of this writing, the mobile vaccination team has already visited some seven retirement homes of the city's barangays and inoculated the elderly who have the difficulty to go to regular vaccination sites. 
Second, in my own opinion, as I wrote in my last issue, some of these senior citizens are hard-headed, pilosopo at walang pakialam sa mundo. While others bumabalik sa pagiging batang isip. 
Two unvaccinated residents in the neighborhood, both senior citizens, contacted me a day after I wrote that column. 
One, who is 10 years younger than my age, approached me one early morning while I was at my usual coffee table in a landscape fronting our house in a subdivision.
"Lor, nabasa ko ang column mo at dahil dito magpapa bakuna na ako," he said. He said he was at first hesitant to take the shot because of the reported side effects. 
When asked why the sudden change of heart, he replied: "Naisip ko lang dahil tama ang sabi mo sa iyong column na hindi lamang tayo ang nabubuhay sa mundo at dapat i-consider rin ang safety ng lahat na nakapalibot sa atin na baka mahawahan kung di tayo magpapa bakuna."
The same guy came again yesterday morning and happily informed me that he already had his first Sinovac inoculation last August 10 at Damosa Microtel and hopefully the second dose next month. Thank you for your advice, he said.
And before he left, he said: "Mas mabuti na ang pakiramdam ko ngayon kaysa noon hindi pa ako nabakunahan." Amen to that.
The other resident is five years older than me who reached us by phone. 
He said: "Loreto, marami talagang matitigas ang ulo at isa na ako doon. Pero may dahilan ang pagiging matigas ang ulo ko dahil hindi na ako makalabas ng bahay."
He then asked when will the mobile vaccination program of the city will be?
The program is now ongoing since last week and it depends on Mayor Inday Sara when she will include senior citizens residing in subdivisions.
Meanwhile, while waiting for the plan door-to-door mobile vaccination in our area, I advised him to avail of the online booking feature of the Safe Davao QR (DQR) launches by the City Health Office (CHO) to provide convenience and avoid overcrowding at the vaccination sites.
You can also choose your vaccination schedule through DQR, I told him. 
He then hanged up the phone after he promised to try the online feature and thanked me for what I've wrote in my column.
As of August 11, the COVID-19 Information Center of the government reported a Global confirmed cases: 203,421,117; total deaths: 4,303,436; people fully vaccinated: 1,190,913,416. Every day the numbers of infected and death are increasing.
According to President Duterte: "Yung ayaw magpa bakuna, magpaalam na kayo sa mundo!" 
                                            -o0o-
The United States is into a plan to allow foreign visitors to the country provided they are fully vaccinated against COVID-19. The government is eventually lifting travel restrictions that prohibit travelers from entering the country.
Canada, the United Kingdom and some other countries are already relaxing restrictions for vaccinated citizens despite the surge of the Delta variant worldwide. 
If ever I change my mind and accept the invitation of my son Jeck to visit him in Canada whenever I want to, it will not be hard for me to secure travel papers.
Since Canada like Mexico is within a borderland of the United States, I only need to show my passport or US Green Card to enter Canada and stays there for six months.
But since the long travel by air from Davao City via Manila and another stopover to a foreign airport before reaching Canada will take me almost 23 hours, the long-hour trip will be too much for this old man to bear. I am having second thoughts of making the trip. Meaning, whether to push through or not my foreign travel again within the year remains to be seen. 
                                              -o0o-
Today is the 46th birthday of my only daughter Tala in the United States. "Wala munang handaan dito Pa, pero diyan  maghanda kayo," she wrote.
Tomorrow, August 17, Boss Willie is also adding another milestone in his senior year. Happy birthday, bossing!