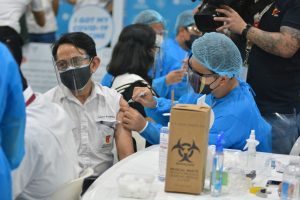 THE CITY government launched an express lane to cater to around 5,000 departing and returning migrant workers to speed up the vaccination of Overseas Filipino Workers (OFWs). 
 A 10-day vaccination drive, including weekends and holidays, for the OFWs will be rolled out from August 18 to September 2, 2021, at the Matina Town Square (MTS) compound in Matina. 
To register for the anti-COVID vaccination, an individual OFW either land-based or sea-based worker must fill out a Google form link available on https://covid19.davaocity.gov.ph/, peso.davaocity.gov.ph, PESO Davao City Facebook Page and on the social media pages and websites of partner groups – Marino Partylist, Overseas Workers Welfare Administration (OWWA), Philippine Overseas Employment Administration (POEA), and MARINA.
All applications for the anti-COVID vaccination will be validated by the Public Employment and Service Office (PESO) in partnership with allied agencies. Once the application is approved, the applicant will be immediately informed. No walk-ins will be allowed. 
Davao City PESO Manager Lilibeth Pantinople in a radio interview over the Davao City Disaster Radio Wednesday said the express lane was requested by City Mayor Inday Sara Duterte after seeing that OFWs are not yet on the priority list of the Department of Health (DoH).
"Based sa experience nasagol siya sa laing category. Dili ni siya makita sa DQR, mao jud ni atong gimugna ang vaccination site, aron ma-cater sa OFW (Based on experience, OFWs are not be found yet in the DQR. They are mixed in different category. This is why this vaccination site is created to cater to OFWs)," she said.
According to Pantinople, applicants filling out the forms will not automatically qualify because it needs validation by PESO in partnership with allied agencies.
"Ang PESO ang mu-validate, kay basin daghan nag-atik atik na OFW, we will refer to the Overseas Workers Welfare Administration (OWWA) for the returnees or repatriate, and to the Philippine Overseas Employment Administration (POEA) because they issue overseas employment certificate for the departing OFWs kung tinuod sila na mugawasay (PESO will validate if applicants are OFWs given that there are people who claim to be OFWs. We will refer to the OWWA for the returnees or repatriated OFWs, and POEA for overseas employment certificate for departing OFWs if they are indeed for departure)," she said.
Rey Elaya, the officer-in-charge of OWWA, said his office will validate OFW in their database, and those who are not yet in their database may present contracts, termination letters, official receipts as proof that they worked abroad.
Elaya added that there will be a two-day validation of OFWs set on August 16-17, from 1 p.m. to 4 p.m. at the MTS where OFWs can present their needed documents.
"The pre-vaccination validation will be in two days and during the day of vaccination, we will also place a desk in the site for validation", Elaya said.
Pantinople said the validation is for "returnees which lack requirement", a certification that they are OFW will be given to be presented for vaccination. 
Remo Amatong, the head of the Marino Partylist Mindanao operations, said seafarers availing of the vaccination are required to present an active Seaman's book to qualify.