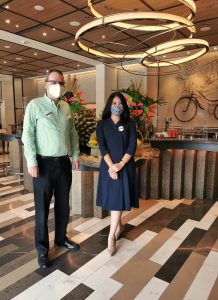 TO KEEP the spirit of Kadayawan alive in spite of the pandemic, Dusit Davao is giving homage to the major tribes of the city by celebrating their cuisines for their Festive Eats for Kadayawan at the hotel's Madayaw Cafe. 
Dusit Davao hotel manager Christoph Kuch and assistant marketing and communications manager Ariesha Faith Dimaano invited members of the media last August 6 for a sampling of unique tribal dishes specially prepared by executive chef Alex Destriza. 
The Kadayawan buffet includes Tyula Itum (black soup seasoned with burnt coconut from the Tausug), Linotlot nga Nonno (shrimp cooked in bamboo from the Bagobo Tagabawa and Giangan/Clatta), Piyanggang Manuk (chicken in blackened coconut paste from the Tausug), Piyassak (cow liver with spices and burnt coconut from the Tausug), Landang (beef stew in coconut milk – Maranao tribes's version of the Indonesian Rendang), Linutlot nga baki (farmed frogs cooked in bamboo from the Ovu Manuvo), Piaparan a bakas (tuna cooked in coconut milk, turmeric and palapa from the Maranao), Kagikit (fish and chicken flakes used for pastil from the Maranao), Palapa (caramelized shallots or "sakurab", ginger and chili peppers from the Maranao), and Piyalam (steamed fish in turmeric from the Tausug).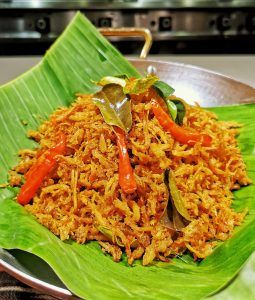 Various tribal delicacies and desserts, such as Wadjet Makadurian (durian rice cake from the Sama), Palikambing (or Tibobol – fried banana ball from the Tausug), Daral (crêpe-like delicacy filled with sweetened coconut meat from the Tausug), and durian fritters, will also be available in the buffet.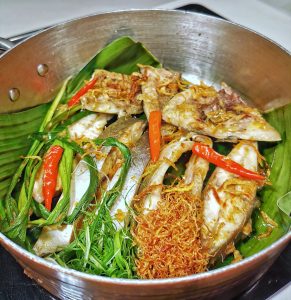 This feast of local flavors is available on August 12 to 14 and August 19 to 21 for dinner buffet, and on August 15 for Kadayawan brunch for only PhP994 per person.