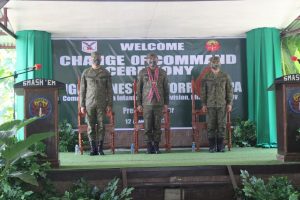 THE newly-installed commander of 39th Infantry Battalion has vowed to intensify the campaign against Communist rebels and strength collaboration of the unit with other stakeholders to sustain peace and development in North Cotabato.
Lt. Col. Ezra Balagtey, new commander of the unit, said his leadership is making sure that peace and development will become synonymous with the province.
"With the milestone we have achieved in achieving peaceful and conflict resilient communities in the battalion's AOR (area of responsibility), I am encouraging our officers and soldiers to keep the momentum in our operations and in sustaining the gains of peace. Let us continue to maintain our professionalism and credibility to our stakeholders and the communities we are serving," Balagtey said upon assuming the leadership of the battalion.
He added that he will "continue (to) nurture our partnership and collaboration with the different government agencies, local government units, barangay government units and other stakeholders in order to achieve and employ whole of nation strategy of facilitating the delivery of development and other socio-economic intervention particularly the implementation of the Barangay Development Plan to the Geographically Isolated and Disadvantaged Areas and isolate them from insurgents influence and agitation."
Balagtey added that under his command, the troops will always be reminded of how to be sensitive to the culture of the people and must ensure that they protect the communities from the armed groups that threatened them.
Balagtey replaced Lt. Col. Geoffrey Carandang as commander of the unit in a ceremonial turnover presided by Major General Ernesto C. Torres Jr., 10th Infantry Division as presider commander.