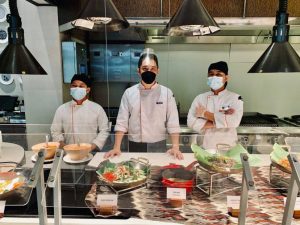 EVEN before the Spanish colonizers and foreign traders came to set foot on this rich island, Mindanao has always had its distinct culinary flavors that is quite different from the cuisines of the Luzon and Visayas regions.
Mindanao's culinary tradition was already well defined even before our country was named "Las Islas Felipinas" by Ferdinand Magellan in honor of King Philip II of Spain in 1521.  Mindanao's tribes had tribal dishes for celebrating life's milestones. 
To commemorate Davao's Kadayawan Festival this August, Dusitd2 Davao features Mindanao's authentic tribal cuisine at its Madayaw Café.  The annual Kadayawan Festival is held for thanksgiving and prayers for a bountiful harvest by the region's indigenous tribes.  In this time of the Covid pandemic, it is also every Mindanaoan's prayerful "celebration of life, health, and all things good."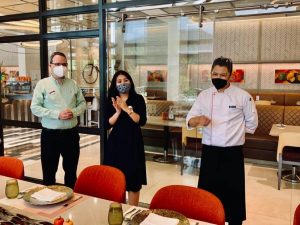 "With all the stringent measures in place and the conscious implementation of new normal guidelines, dusitD2's Madayaw Café is determined to make this Kadayawan season a good culinary experience by showcasing the local dishes of the various tribes of the Davao region.
The festival highlights the tribes and their culture; and that is why we are determined to achieve and share with our guests an aspect of their culinary culture as Filipinos love to eat when celebrating. Our native cuisines have their own names, histories and distinct identities. Although we are not fully able to celebrate this Kadayawan season of plenty like in the past, we are giving celebratory indulgences through our special culinary offerings," said Madayaw Café's Chef Alex Destriza with Dusitd2 General Manager Christoph Kuch and Assistant Marketing and Communications Manager Ariesha Faith Dimaano nodding in complete approval as the three warmly welcomed their invited media practitioners, bloggers and guests.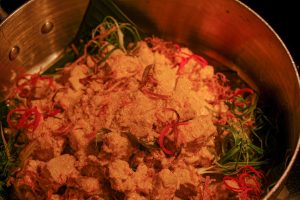 "This thanksgiving month of August, Dusitd2 Davao's Madayaw Café has 'Festive Eats' and 'Kadayawan Brunch' on its line-up of restaurant offerings. 'Festive Eats' is an assisted dinner spread from August 12-14 and August 19-21, 2021. The two-week special menu is available from 5:00 pm to 8:00 pm," revealed Faith Dimaano.
"It is time for the native cuisine of Mindanao to shine," so said chef Alex Destriza with conviction  as he introduced the native dishes. "The menu has a good combination and variety to satisfy our guests' palates. Palapa and Pairen a seda a barilis are some appetizers and salad from the Maranaw Tribe. From the Tausug tribe, my culinary team prepared a Tiyula Itum or Black Beef Soup, and Pialam/Steamed Fish and Piassak/Cow Liver for the main dishes. The other native dishes include Sinagupan or Yellow Rice which is from the Kalangan tribe, Linotlot nga Nonno/Shrimp cooked in bamboo from the Bagobo Tagabawa tribe, Linutlot nga Baki/Farm Frogs cooked in bamboo from the Ovu Manuvo tribe, and Landang from the Maguindanao tribe."
Sweet-toothed that I am, I listened attentively to the introduction of the dessert spread: Wadjet Makadurian (durian rice cake from the Sama tribe), Palikambing (or Tibobol – fried banana ball from the Tausug tribe), Daral (crêpe-like delicacy filled with sweetened coconut meat from the Tausug tribe), and durian fritters. 
Dusitd2 Davao will be having the Kadayawan Brunch this August 15, 2021, from 10:30 am to 3:00 pm for families to enjoy. Tribal dishes and desserts as well as the Madayaw Café's signature dishes will be served.  
"With our team fully vaccinated and with all our safety guidelines in place, we hope our guests will feel safer and be more assured as they dine and stay with us this August. I personally appreciate the effort of the Dusitd2 Davao team in showing the rich and varied cultures of the region; and I am learning so much from it, as well," confided GM Christoph Kuch as he left the group hurriedly for another important appointment.