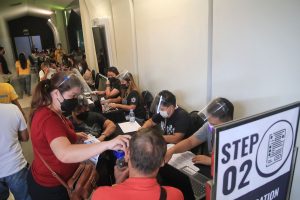 THE CITY COVID-19 Task Force has strictly enforced the "no walk-in" in vaccination sites as only those scheduled to get vaccinated need to queue, a top city government official said.
Dr. Michelle Schlosser, task force spokesperson, made the reaction Wednesday after a video circulated online about a huge number of people that went to a school in Calinan early in the morning the previous day to get vaccinated even when their schedules were not on that day.
Schlosser urged the public to continue observing physical distancing even at the vaccination sites and that they must wait for their turn to get inoculated. They must not also go to these sites early because they will just waste their energy, she added.
"Ang atoang paabuton kung kanus-a gyud mag-open ang vaccination site kasi po kung iskedyul ninyong anang adlawa na, definitely po matagaan jud mo basta muadto lang mo sa specific time nga open ang vaccination site. Dili necessary mag-adto mo ngadto alas tres, alas kuwatro, o alas singko sa buntag, magtapok namo, maglinya namo," she said.
She pointed out that the city government does not allow walk-in for the vaccination. "Katong na-sked anang adlawa ma-serve jud mo. Kung naa man na, please piktyuri ninyo, bidyuhan ninyo kay kanang muadto dinha for sure naa pud jud na silay schedule," she said.
She added that the city government has not been remiss in reminding people about the no walk-in policy. "Right after nakita nato to sya nga commotion o kagubot, the response was there. Nagpadala dayon security og policemen pare masecure ang safety sa mga katawhan," he said.
She urged the public to help the city government and its instrumentalities in ensuring that policies are followed. "We would like to hear more para mapa-improve pa nato atong sistema (so we can improve our system)," she added, urging the people to also report irregularities taking place in the sites.