THE city government is proposing for the setting up of more cluster clinics in districts to enhance its fight against the COVID-19 virus.
The proposal came about as Mayor Sara Duterte confirmed the lack of employees assigned to the districts has become one of the challenges in fighting the spread of the virus.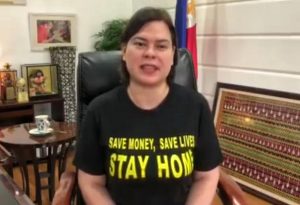 Duterte said the Human Resource Management Office has also started to study the proposal, particularly its human resource component.
The mayor said on Monday that the proposal was presented to her by acting City Health Officer Ashley Lopez as employees assigned to the districts have been overburdened as they are assigned to help the fight against the virus, aside from their regular jobs.
On top of this, she added, the city government also needs to double its efforts in the implementation of the vaccination program.
"We want to create more vaccination teams, we need more people for that and we need to pay them so we need people para for that cluster and also for the health group of response cluster," Duterte said.
The city government, the mayor also said at the start of the vaccination program, intends to inoculate about 1.2 million of its residents, including those transient ones who are in the city during the program implementation.
The target, she added, is to reach the goal by November, at least for the first doses. At present, aside from setting up more vaccination sites like schools, the city government has also deployed mobile vaccination teams to provide shots to senior citizens and those who have health conditions.