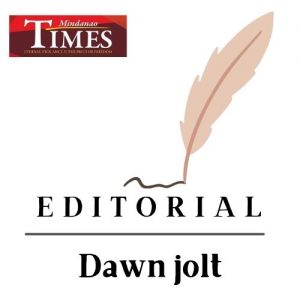 TIME, according to Albert Einstein, is relative, and "the rate at which time passes depends on your frame of reference." This is exactly how we felt early dawn yesterday when we were jolted out of our dreams by the shaking that was a little bit too long for comfort.
The magnitude 7.1 earthquake that shook most parts of Southern Mindanao resulted in about 50 aftershocks by 1:30 pm, the Philippine Institute of Volcanology and Seismology reported. In Davao City, the quake registered at 4.
There was no major damage reported  in the provinces affected by the quake with epicenter at 79 kilometers southeast of Governor Generoso in Davao Oriental and with a depth of 55 kilometers.
In the last quarter of 2019, we experienced a series of earthquakes that destroyed infrastructures in the city, rendering some condos uninhabitable. At the epicenter, buildings – including government infrastructures, crumbled from the onslaught of the natural disaster. The most unforgettable happened on October 31, 2019 where the Ecoland 4000, Eva's Hotel in Kidapawan City, a shopping mall in Digos City and a portion of a mountain in Makilala town, North Cotabato caved in after the quake.
Even as the ground was shaking, people turned to social media, informing friends far and wide of the seismic event, perhaps assuring too, that they were safe in their homes. In these times of collective anxiety brought by the Delta variant of COVID 19, we have started to consciously reach out to assuage any feeling of apprehension that might burden our loved ones. 
The quake that lasted for a few seconds stretched foreven, or so we felt. Just like being locked in this COVID 19 pandemic where we get disoriented by the speed of each day's passing (four more months to December!) and the dragging of a long day when you are in quarantine.