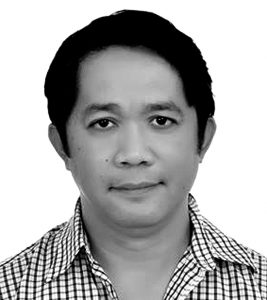 HIDILYN Diaz held the handlebars of a 127 kgs barbell, summoning the full might of her power muscle and the years of mental calisthenics and training as she lifted the iron bars, which she know it was her only window chance to win the elusive gold that will place her in the pantheons of olympian gods. Grit and steely resolve to win written all over her face.
Then the lift of the iron just a little over her head, spectators from the crowd across the globe watched with bated breath as she did a final jerk of the iron, displaying the force of her prowess in that shining moment of her athletic life. Then the thunderous cheers from the crowd erupted, as the announcer pronounced that she had done it, that it was gold for her.
She took a glance at her back. Her face contorted just a little, not from the unimaginable weight she just lifted, which she later on admitted she had never tried before, in fact setting herself an olympic record that day for the weightlifting women's category. The look she gave to the Hidilyn Diaz team, which includes her boyfriend coach, was almost like a cry of someone who came out of a difficult situation.
Hidilyn's story tells of her humble roots in her hometown Zamboanga City, south of the Philippines, growing up in a brood of seven children, whose everyday existence rests solely on the meager income of a father, who barely made a living as a trike driver.
Another olympian medalist Carlo Paalam, who clinched a silver medal for himself in the men's boxing category scavenges recyclable materials at a dumpsite back in his hometown Cagayan de Oro City just so he and his family can buy their daily sustenance. At age 7, he joined an amateur boxing match organized by the local government in their city called Boxing at the Park. His first win was at this tender age, using the winning that day to buy rice to give to his mother.
And so was the story of that other silver medalist Nesthy Petecio for the women's boxing olympic match. Petecio's family relies on tending a farm in a bucolic village of Sta. Cruz in Davao del Sur. Nesthy has tried gathering manure at the farm to sell as fertilizers, just so she can support herself to school.
Their winning the title was considered historic and the best performance so far shown by Filipino athletes, including the first gold medal for the country in 97 years.
This journalist  asked government sports officials if dire circumstances among athletes, particularly their common story of poverty, drove many of them to take up sports as a ticket way out. And what can the government do to support their sports endeavors?
"This is only an estimate: out of 1,400 national athletes 85% to 90% are coming from poor communities; Mindanao, Visayas and Luzon and NCR. Olympic success can motivate and inspire the nation, especially the Filipino, William Ramirez," chair of the Philippine Sports Commission said. 
Asked what lessons can the country draw from the historic olympic winnings of the athletes and what are the future measures to improve the plight of the struggling athletes also eyeing a shot at the olympics, Ramirez said "we will sustain the 19 Elite Athletes to participate in three years of high level foreign competitions and training. And include the 100 athletes who fought for their Olympic Qualifying bouts and invest in 30 to 60 young athletes 10-15 years old especially in individual sports where Filipinos are capable of winning in International competitions. And these involve: 1. Money 2. Excellent Coach 3. Structures 4. Athlete – talent 5. Competent and responsible sports leaders with the CHARACTER of a leader."
For his part. sports commissioner Charles Maxey said this year's budget amounts to some P 1.3 billion.
The budget was intended for the olympic and the supposed southeast asian games, another big sporting events in the Southeast region of Asia which was cancelled and moved instead to next year. 
Asked if there's a need to increase funds to athletes to better support them in the future sporting events, Maxey said, "Yes, the bigger the budget the better for the athletes. But it's up to congress because they approve the budget," Maxey said. 
It can be recalled that in 1996 Atlanta Olympics, Filipino boxer Mansueto "Onyok" Velasco won a silver medal but failed to get the promised cash and other incentives. Presidential spokesperson Harry Roque said "Malacañang will look into the possibility of giving an incentive to retired boxer and Olympic silver medalist Mansueto "Onyok" Velasc who failed to receive all the cash and other incentives promised to him
Roque told a news briefing that he would relay Velasco's plight to President Rodrigo Duterte.
Believe in your dreams dear  athletes, despite hardship and poverty, you too can clinch awards as Olympic Filipino heroes have shown. 
(Dennis Jay Santos, toplight. Comments for this story can be sent to dennisjaysantos@gmail.com)