–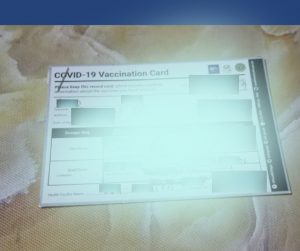 THE city government has warned it will file criminal complaints against those who have been behind the proliferation of bogus COVID-19 vaccine cards as well as those using them.
Angel Sumagaysay, Public Safety and Security Command Center head, said Tuesday that his office has started investigating the reports that there were individuals using fake vaccination documents in proving that they have been inoculated.
"To those people who will take advantage of the pandemic situation, please do not attempt to violate our laws, specifically in tampering (with) and/or presenting a falsified or fake Vaccination Card for you are endangering the health security not just of the Public, but more importantly, your own families," Sumagaysay said.
The Inter-Agency Task Force on Emerging Infectious Diseases issued a resolution which defines that a person is fully vaccinated for COVID-19 two weeks after receiving the second dose of a two-dose vaccine, or two weeks after receiving a single dose vaccine. The resolution added that only those that the Food and Drug Administration-approved vaccines for Emergency Use Authorization (EUA) or those that the World Health Organization-granted with Compassionate Special Permit (CSP) are recognized.
Sumagaysay said presenting bogus vaccination cards will put the public at risk so those behind it must be penalized even as he said it is important to get vaccinated to ensure that not just the person receiving the shots, but also those who are in contact with that person are protected from the serious effect of the virus.
"Should you be caught with this illegal act, you will be held responsible and you will spend time, money, and other resources attending a trial at court for the Local Government will strictly enforce the law and the Local Government will press charges against such acts that endanger the health safety and security of our people," he said.
He said he received a report about a man who was arrested during an operation for selling fake vaccination cards as he encouraged the public to report to law enforcers those who might be engaged in this illegal activity.