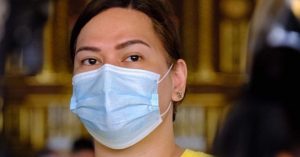 THE CITY government said its mobile vaccination team has so far inoculated 76 senior citizens in the seven geriatric home facilities as it continues to expand its reach so that more members of the elderly community can be provided with shots against the COVID-19 virus.
On Monday, Mayor Sara Duterte said the team has started visiting retirement homes to start providing shots to elderly who have the difficulty to go to regular vaccination sites.
"Very recently ang mobile vaccination team nato nga naga-adto sa mga home for the aged og mga retirement homes, we were able to do that in three days," Duterte added.
Among those facilities that the team has visited included the Care for Elderly Foundation in Biao Guianga, Tugbok; Hope Integrated Care Assisted Living in Catalunan Pequeño; and Co Su Gian Home for the Aged in Cabantian, Buhangin; the Country View Assisted Living Facility along Tacunan Road in Tugbok, and the Happy Heart Caring Hands Foundation at Purok Carnagan in Bayabas-Eden Road, Toril were also inoculated by the city's mobile vaccination team on August 5, along with those at the Golden Haven Retirement Home, Inc. in Puting Bato, Riverside, Calinan District, and PLEKS Good Shepherd Care Home at Gulfview Executive Subdivision in Bago Aplaya, Talomo District.
Because of lack of human resources, the mayor also called on the city council to also set up its mobile vaccination team as she said the plan is to vaccinate more members of the priority groups, including the senior citizens and those with health conditions. 
In the case of senior citizens, "sila ang pangitaon sa bakuna, dili sila ang mangita sa bakuna," she added.
The City Social Welfare and Development Office said based on its record the city has about 300 senior citizens, about 79,000 of them have received their first doses, while about 54,000 have got their second doses.