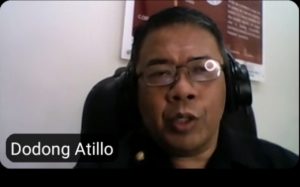 THE REGIONAL office of the Department of Education will provide more help in assisting the local government units in curbing the spread of the COVID-19 virus either through providing isolation facilities or vaccination sites, a top official said.
Jenielito Atillo, spokesperson of the office, said during AFP-PNP Press Corps Southern Mindanao virtual press conference, that the agency is consistently supporting the efforts in the fight against the spread of the virus.
"I've heard that there are still some requests from some of our local government units with respect to the utilization of some of our schools either vaccination sites or isolation centers…we will always be consistent in helping," Atillo said.
He added that 22 schools in the region have been used either as isolation facilities with six of them in the city, three in Davao del Norte, two in Davao Occidental, two in Davao de Oro, four in Davao Oriental and five in Mati City. 
For vaccination centers, 13 in the city, 22 in Mati City, one in Davao Occidental, six in Davao de Oro.
Atillo added that about half, or 23,771 of the personnel of the regional office received their first doses of vaccines against COVID 19. 
"We are continuing with our vaccination efforts in the DepEd Region XI as the vaccines are available," he added.