THE Philippine National Police Aviation Security Group (PNP Avesgroup) has formed a female platoon assigned to secure the arrival and departure area of the Francisco Bangoy International Airport.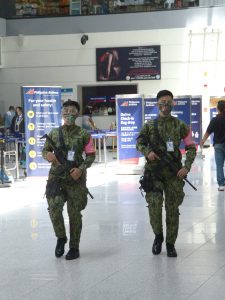 Brig. Gen. Florencio Ortilla, Avesgroup director, said the 20-member platoon provides a more friendly approach at the same time intensifies the security of the facility.
Ortilla said the Avsegroup decided to set up the unit in the airports of the country as part of intensifying security as well as try to boost the trust both of local and foreign travelers on the uniformed personnel of the country.
"That is one of my projects…which means our female personnel are not only on the tarmac but they are also deployed in the arrival and departure areas (of the airport and) seen by the passengers," Ortilla said.
He said he is also planning to request for more female personnel as part of the security of the airport. "There should be female platoons in the 15 international airports (of the country) who will be guarding the arrival and departure areas," he added, adding that the unit will help those assigned at the airport.
He said the presence of female uniformed personnel at the airport creates a welcoming feeling among passengers. 
"Maraming rrason kung bakit babae nilagay natin. Kasi unang una syempre mabibigla ang ating passenger at tourista na dito sa airport puro babae ang nakita natin na nagbabantay. Nakakatuwa at napaganda natin ang damdamin ng mga tao because sa so many cases (that the cops are put on bad light)," he said.