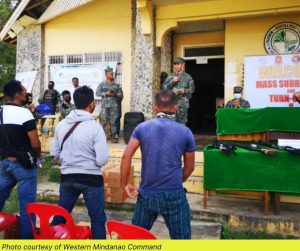 THE military reported that 56 loose firearms  were surrendered in Tawi-Tawi during the first eight months of the year.
Lt. Gen. Corleto Vinluan Jr., commander of the Western Mindanao Command said, this was achieved through the efforts of the local government and the Joint Task Force Tawi-Tawi as more residents decided to turn over their firearms.
On August 9, 2021, Panglima Sugala Mayor Nurbert Sahali turned over seven firearms to Col. Romeo Racadio, Second Marine Brigade commander, at the town hall.
Racadio attributed the surrender of the firearms to the campaign of the local government, the military and the police.
"Together with the barangay officials, we continue to conduct security forums in the communities to convince the holders to surrender their undocumented/unlicensed firearms to avoid penalty," said Lt. Col. Charlie Caña of the Marine Battalion Landing Team 12.