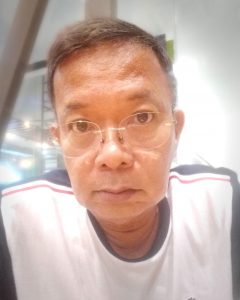 LESS than a minute after I first heard the neighbor shout "fire", I was immediately out the front door and rushing out the gate. Going up toward the opposite end of our block, a long black cloud slowly wound its way skyward in the late afternoon, and the first thought that came to me was 'too near'. 
Exactly eight houses away, the house could not anymore be visible because of the thick black smoke that enveloped it. In the next instant, a huge ball of fire meant that its whole front must have already been totally consumed by the blaze. For that brief moment, the black smoke had been replaced by just a bright orange and yellow. Even the electric wires in front of the house were already starting to burn, so there came out suggestions by some neighbors that we turn off our breakers in case power was affected. 
On the street, it was as if a beehive had been disturbed. Our silent block had suddenly become that exactly, a beehive of activity, with the street corner suddenly filling with people from other nearby blocks. Near us, close-by neighbors conferred on the best thing to do next. A random check went around and one result was yes, 911 and the fire department had already been called, while a few included suggestions that other homeowners move their cars to clear the road in order to make way for the fire trucks when they came. It was likewise noticeable that while some household members stood by their gates, the rest went back to prepare and pack essentials in case an evacuation became necessary.
After about thirty minutes, the first sounds of sirens consoled everyone that help was near. A clearing was made at our corner as the first fire engine snaked its way past many onlookers and two parked cars that couldn't be moved. As the truck raced past us and halted right in front of the burning house, it was as though a signal had been given. 
The people at the corner began trekking their way, entering our street, past us and headed toward the fire. Luckily, the other fire trucks that came to the rescue were directed to go around back, at the opposite end of our block as by this time, it proved to be much easier to navigate.
In a while, as the throng that earlier made their way to watch the fire returned, they brought with them a hodge-podge of news as they "reported" what they had seen first-hand. From several eager beavers we got a few theories as to how the fire started: electrical or faulty wiring, appliances or a charging cell phone left unattended, and an open fire left alone for an instant. Nope, arson had not been included by the unofficial CSI investigators.
Also after a short while, the online page of the subdivision had showed a post with a photo (and video) of the burning house, complete with a short description reporting that an unattended charging mobile phone had caused all these. 
Much later in the early evening when I finally decided to look at the burnt residence, I espied a fire investigator and several firemen checking inside the ruins. Surely, I thought a report would come out from that. One that would be more official than the rumors, we've heard. It's really true what some elders used to say: Nothing sets tongues a-wagging like a house on fire.