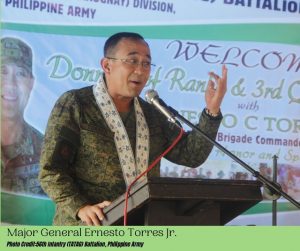 ANOTHER leader of the New People's Army surrendered to the military in Davao de Oro.
Major General Ernesto Torres Jr., 10th Infantry Division commander, said Eduardo S Genelsa, 61, was a commander of the Pulang Bagani Company 3.
Based on the military report, Genelsa spent 42 years in the rebel movement and held top positions. He was also involved in several armed confrontations either against the police or the army.
The report added that he surrendered when he realized that the movement was exploiting its members as he called it a "fancy revolution" and a "money-making scheme" benefiting its leaders.
Captured in 2016 but was released as member of the rebel's panel in the peace talks, the report added Genelsa was facing an arrest warrant for robbery, while he was also involved in double, multiple and frustrated murder cases. He went back into hiding when the peace talks collapsed in 2017.
Because of his surrender, Genelsa will become a beneficiary of government programs for those who decide to return to the folds of the law.