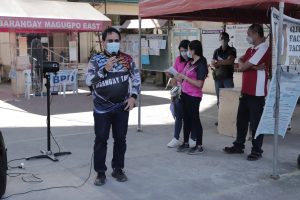 TAGUM CITY — To solidify the city's peace and order indication for Tagumenyos, the local government unit of Tagum commenced the distribution of L300 vans to all 23 barangays in the city last August 5.
This extension of service to the barangays, spearheaded by Mayor Allan L. Rellon, is aimed to better equip the local officials in maintaining orderliness in their respective areas by providing patrol automobiles for a more effective and efficient response during emergencies and calamities.
Moreover, these vehicles are very vital in the fast delivery of government services to Tagumenyo constituents especially during this time of pandemic when every tick of the clock is important.
As for Mayor Rellon, may these vehicles be a deterrence for people to not engage in any form of criminality. He expects a lower to zero crime rate since these vehicles will be used in roving around the barangays.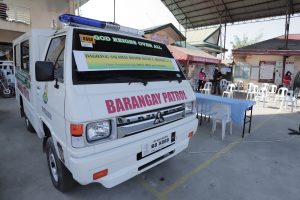 Further, he added that they deliberately put COVID-19 protocols stickers in each van to heighten the LGU's information education campaign on what to do to combat this pandemic.
A total of six barangays received their L300 vans last August 5 comprising of Barangays Magugpo East, Magugpo South, Pandapan, New Balamban, San Agustin and Nueva Fuerza. This activity will continue until August 10, catering to other barangays in Tagum.
With a total budget of 24.8 million pesos, this cements the mission of the Rellon administration of achieving Genuine Peace, Safety and Security as espoused in his 10-point agenda dubbed as the EAGLE WINGS Program. JP Cordovero/CIO Tagum