THE LOCAL government here has won its first legal case against a person who presented a fake reverse RT-PCR test results upon arrival at the Francisco Bangoy International Airport in February.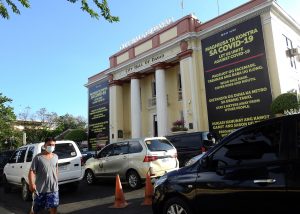 And while the accused was only fined P5,040 after pleading guilty, the criminal offense will appear in his record.
According to the City Information Office, Lloyd Alipin Abarquez was sentenced by Judge Catherine Guerzo-Barrion of the Municipal Trial Court in Cities (MTCC) Branch 4 to pay P5,040 after pleading guilty to Sec. 9 of RA 11332 or the "Law on Reporting of Communicable Diseases" and Davao City Ordinance No. 0466-21 Series of 2021 – "An Ordinance Penalizing Persons Using or Producing Falsified or Tampered COVID-19 Medical Test Results or other Health Verification Documents in the City of Davao".
This is the first case of the 159 cases filed by the city government through the Davao City Public Safety and Security Command Center (PSSCC). Of the 159, a total of 145 cases were filed through inquest and 14 are through regular filing. 
Abarquez was apprehended on Feb. 27, 2021, at the Davao airport after he presented RT-PCR test results without supporting documents such as receipts and e-mail from the swabbing center.
Angel Sumagaysay, Public Safety and Security Command Center (PSSCC) head, who represented the city in the case, said that the filing of the case commenced after verifying that the swabbing center supposedly issuing the RT-PCR result could not find Abarquez's name in its system.
Sumagaysay said that this conviction only shows how serious the city is in cracking down against bogus swab test results. 
"Wala nasayang ang hago sa atong personnel nga na-assign sa airport, ang atong kapulisan na nagtabang sa atoa pag file sa kaso, ug ang city government pud na represented sa PSSCC na nag file ug kaso, nagpasalamat ta na nagiging victorious ta aning violators of Republic Act 11332 kay ngano man may mga health concern man gud ni sya, at least tinuod ning atoang pag file ug kaso sa atong mga violators (The efforts of our personnel and the police primarily assigned at the airport were not wasted and the City Government was represented by PSSCC which helped filed the case. We are thankful that we are victorious against violators of Republic Act 11332 because these involve health concerns. At least we can attest that we really push the filing of cases against these violators)," he said.
Sumagaysay said that while the penalty imposed was not heavy, it will "appear as a remark on his police clearance, National Bureau of Investigation and court clearance."
Sumagaysay also commended the verifiers, City Tourism Office through the leadership of Generose Tecson, the Sasa Police Station which prepared documents for the local government unit.