A CITY Health Office (CHO) official has appealed to the media to be responsible about reporting information to avoid creating anxiety and confusion among Davaeños.
Dr. Michelle Schlosser, City COVID-19 Task Force spokesperson, said during the COVID-19 Alert program of Davao City Disaster Radio on Aug. 4, bared this in the wake of alleged reports that vaccination cards are being required for entry in establishments in Davao City.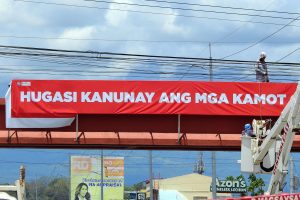 "Nagahangyo ko sa atong mga media friends that we have been very responsible in giving information og guide sa atong katawhan. Ang atoang tumong, you and I, our media friends, is to serve our people labi na atong kapwa Dabawenyo (I am appealing to our media friends to be very responsible in giving information and guide to the public. Our purpose, you and I, our media friends, is to serve our people especially our fellow Dabawenyos)," she said.
To serve the people, according to her, is "instead mohatag ta og kaguol, mohatag ta og encouragement (instead of sowing worry, we need to encourage)."
She also said, "Ipawala nato ang mga worries and fears sa atoang mga listeners and televiewers. Unta tanan ta magtinabangay as part of the community, kita tanan maka contribute to our fight against COVID-19 (Let's help allay their worries and fears of our listeners and televiewers. We hope all of us will help as part of the community, we can all contribute to our fight against COVID-19)." 
Dr. Schossler also advised a netizen who claimed that there were establishments already asking for vaccination cards as part of the entry requirements to validate the claim.
"Kung naa mga claims nga ingon ana (If there are claims like that), we have to make sure it is properly investigated kasi when you claim like that mura syag matagak og tsismis kung walay proper validation and proper investigation (because such claim would be just like gossip if there is no proper validation and proper investigation)," she added.
The CHO official also challenged the individual who made the claim to show proof so they can help them investigate the matter.
Schlosser said, "We will help in fixing the issue. Need jud nato tamang impormasyon para sa katawhan (we need the right information for the public) for us to avoid confusion and unnecessary panic."
Mayor Sara Duterte, during her DCDR program on Aug. 3, clarified that the "no-vaccination card, no-entry" is not being implemented in the city. 
"Because kulang pa ang atoang bakuna. The moment nga daghan ta ug bakuna and wala nay gusto magpabakuna and wala ta makaabot sa 1.2 million, isa na siya sa possible options na buhaton sa isa ka LGU para ang mga tao is maengganyo magpabakuna. Pero sa pagkakaron, kulang ang atong bakuna, we cannot do that — otherwise, mag stampede ta tanan didto padulong sa vaccination center (We still lack vaccines. The moment we have enough vaccines, nobody wants to get vaccinated, and we haven't reached the 1.2 million herd immunity, that is one of the possible options that an LGU can do to encourage people to get vaccinated. But for now, since we lack vaccines, we cannot do that – otherwise, people will stampede in going to the vaccination center)," Duterte said.