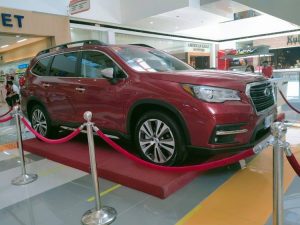 SUBARU introduces Evoltis  "the true luxury of space and performance" that boasts of features that surpasses features of all other  SUVs in the market. 
On exhibit at the ground floor of SM Lanang Premier,  Subaru Davao showcases the Evoltis, allowing car aficionados a glimpse of its magnificence and cutting edge technology.
Diane Silva, Subaru manager in Davao City, said the Evoltis is made in Subaru of America, not in Subaru Japan as it is usually the case. She noted that that the Philippines is the only country in Asia allowed by Subaru of America to sell the luxury vehicle. 
"Our distributor is Subaru Asia based in Singapore and it distributes to Thailand, Malaysia, Vietnam, Cambodia, Indonesia, Taiwan and Hongkong.  Subaro Asia was only allowed to sell the Evoltis in the Philippines, " Silva said.
"This is the first time that Subaru came out with a 7-seater SUV which was just launched in May this year," Diane added.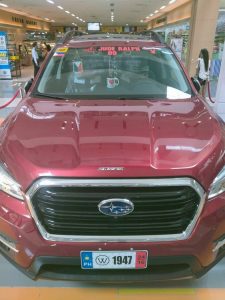 One of the first owners of this luxury vehicle is businessman  Atty. Jude Ralph Yap.  
"I have been driving since I was 14 years old and I have driven various luxury vehicles  in the US and Europe, but nothing compares to the experience I have with Evoltis.  The level of comfort is extraordinary, the seats are wide and the features make you feel  in the lap of luxury," Yap said.
The SUV is a gift from his wife Mimi who is unable to come home from the US to be with him on his birthday due to the global health pandemic.
"It is a very generous gift ," Yap said.  
This is indeed luxury and comfort in one sleek package. The impressive specifications can be found on its website, highlighting that this is Subaru's true luxury 7-seater SUV that offers comfort and versatility.
"Everyone in the family can appreciate the comfort of a true 7-seater. All full-sized seven seats can be reclined according to each passenger's preferred position for added comfort.
"The SUV is versatile and offers practical space for all your needs. A massive 2,435-litres of cargo space is revealed when the second and third row seats are stowed away.
"The car's 54-inch panoramic sunroof lets natural light into the cabin; it gives an open and airy feel and makes driving truly enjoyable. The Evoltis also features over 100 safety features including the EyeSight Driver Assist Technology. This works like a second pair of eyes that helps detect and avoid potential accidents. 
"Other features that make driving and riding an ease: rear-seat climate controls to ensure comfort thru air conditioning vents; a smart rear view mirror; Harman Kardon Premium Sound System."
Silva said interested buyers have to visit the Subaru showroom in Lanang as they still have to order the unit in Singapore with a price point of about Php 3.5 Million. (Amalia B. Cabusao and Jesse Ramon Boga)