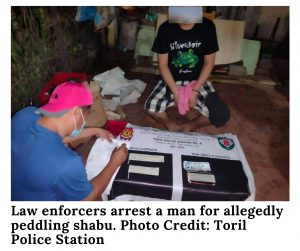 LAW ENFORCERS arrested a man during an operation against illegal drugs in Barangay Lizada, Toril, on August 3.
Major Michael Uyanguren of the Toril Police Station said that Robert Sedona Rivera, 46, yielded a small sachet of what the arresting team believed as shabu and was valued at P3,000.
Also seized from him was a mobile phone as the arresting team turned the substance over to the Regional Crime Laboratory, Ecoland for laboratory examination.
A complaint was being prepared against the suspect.