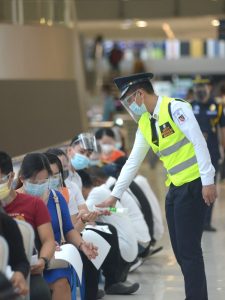 LAW ENFORCERS have warned the public about unscrupulous individuals who have been selling fake vaccination cards.
The warning came after elements of the San Pedro Police Station arrested a 24-year old man selling counterfeit vaccination cards along Bolton Street on Wednesday.
Captain Rosario Aguilar, Davao City Police Office spokesperson, identified the suspect as Aleson Ayunan Sultan, a transient resident of Barangay 5-A.
The report said Ayunan lured a member of the arresting team to buy a fake vaccination card for P300 which led to his arrest. 
Law enforcers immediately handcuffed the suspect and the pieces of evidence as cases have been prepared against him, Aguilar said.
Earlier this week, Mayor Sara Duterte denied reports that people who failed to show vaccination cards cannot enter public places and business establishments, including public markets.
However, the mayor said requiring a vaccination card from those entering public places and business establishments would remain an option in case the majority of the residents have become fully vaccinated.
"Pero sa pagkakaron sir, kulang ang atong bakuna, we cannot do that. Otherwise, mag stampede ta tanan didto padulong sa vaccination center," she said.
The city government is targeting to vaccinate about 1.2 million of city residents, including those who are non-residents but have been in the city during the implementation of the program.
At present, both the city government and other concerned agencies have called on the public to get vaccinated against COVID-19 to help arrest the continued spread of the virus.