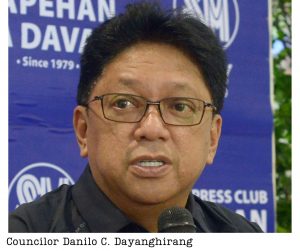 GROUPS calling for Mayor Sara Z.  Duterte to run for President in the 2022 presidential derby have vowed to support her candidacy even if she runs as an independent, said Councilor Danilo C. Dayanghirang, co-convenor of the Parallel-National Coordinating Committee of the Sara All Philippines.
Dayanghirang made a statement after former Davao del Norte governor Anthony del Rosario, Hugpong ng Pagbabago (HNP) secretary general, was quoted in the media as saying that Duterte might decide to run as an independent candidate.
However, in earlier reports, del Rosario said several national parties have expressed their support for Duterte whose regional party is HNP.
"Whether as independent or with or adopted by a national political party or under a coalition of parties, the volunteer Parallel Groups now banded together under Sara All Philippines 2022 will be fully behind her (Duterte)," said Dayanghirang, also the national chair of the Philippines Councilors League.
The city councilor explained that the Sara All Philippines 2022 "is the broadest grand alliance of grassroots organizations here and among OFWs."
"It is composed of groups involved during the 2016 electoral triumph of President Rodrigo Duterte, the landslide victory during the mid-term elections of HNP and allied political parties, and new groups urging the Davao City Mayor to run to continue and intensify the reforms started by her father," he explained.
He said the alliance has also released a unity statement which affirmed its support for the mayor's possible bid for the highest government office. 
"We remain steadfast in our firm belief that only Mayor Inday Sara Duterte can continue and intensify the reforms instituted by her father, President Duterte. We shall remain committed to this faith believing it is for the Common Good of our people and for a better Philippines," the alliance added.