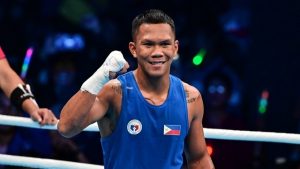 TOKYO — Eumir Felix Marcial lost to Ukraine's Oleksandr Khyzhniak via split decision, 2-3, on Thursday to settle for a bronze medal in men's middleweight class of boxing at the Tokyo Olympics.
Marcial fought the illustrious Ukrainian punch-for-punch to get the nod of the five judges in the first two rounds. But Khyzhniak couldn't be denied and rallied in the fourth round to escape with the close victory.
In the end, Marcial admitted he lost to a better fighter.
"Malakas siya na fighter, deserve niyang manalo," said Marcial of Khyzhniak, who won gold medals at the world (2017) and European (2017 and 2019) championships and looked prime to win gold in these pandemic Olympics.
Marcial's bronze is the Philippines' second medal in boxing after Nesthy Petecio's silver in women's featherweight and the third overall for the Philippines after Hidilyn Diaz's historic gold medal in women's weightlifting.
Carlo Paalam assured the country a silver in the men's flyweight following his victory also on Thursday over Ryomei Tanaka of host Japan.
He fights Britain's Galai Yafai in Saturday's final. The national boxing team's Australian consultant, Don Abnett, also admitted Marcial lost steam against the seasoned Ukrainiabn slugger.
"He [Marcial] only had six weeks training with us, although his Colorado [Springs] training helped him a lot," Abnett said.
Marcial turned pro in September last year and trained for four months under world-renowned trainer Freddie Roach at the Wild Cary Gym. He won his first professional fight, a four-rounder, in December, but hasn't fought a single bout until last May's Asian championships in Dubai.
He exited the Dubai tournament in his first fight and agreed to join a training camp with the US boxing team in Colorado Springs.
"I gave my all to win, but that's the decision," Marcial told an American journalist. "I know God has plans for me… for me, this bronze is gold."
Marcial engaged Khyzhniak in a flurry of exchange in the first round, his right cross and uppercut occasionally hitting their targets to narrowly win the opener.
The second round turned out almost exactly like the first with Marcial sneaking in 1-2 combinations to the Ukrainians face—at times unleashing three to four rapid punches to Khyzhniak's stomach.
But Khyzhniak, who ahead of Tokyo has won all his 60 fights since 2016, brought all the experience, boxing wit, and punching power to the Kokugican Arena to dominate the third round and escape with the victory.
In the end, Marcial said he needed to learn from the loss.
"May kulang pa, kinapos ako sa hangin," he said.