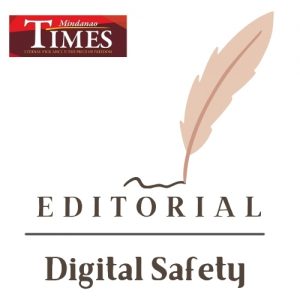 THE health pandemic has made the internet a huge part of our daily lives. With the quarantine imposed lockdowns, most of us work and study from home, hooked to the  web to get us through the job at hand.  For the seniors, social media has become an indispensable tool to maintain connection to the outside world – family, friends, civic organizations – as they wait for the virus to finally  settle  down.
While modern contraptions have made our lives easier than ever before, we have to be mindful of the inherent adverse effects technology brings. We hear reports of many cybercrimes happening, including trafficking, scams and identity theft, to mention a few. Everyone is not spared from people who are out to make big bucks hacking on the internet.
Digital safety, as defined, also refers to internet safety, media safety, online safety, or cyber safety which means the way we protect ourselves, our families and those we connect through social media or digital devices.  All of us are vulnerable to threats in cyberspace so digital hygiene or how to keep our accounts safe becomes necessary at this time. 
We should be more cautious online and browse some helpful safety mechanisms to prevent cyber criminals from hacking our account and victimizing family and friends. It is always prudent to protect sensitive personal and professional data because posting these on social media makes us easy targets for hackers. 
Here are some tips that you can consider to keep your account safe: Always log out from your social media or e-mail account;  do not click on anything which looks suspicious like an offer that is too good to be true; do not accept friend requests from a person who does not have enough details on his post; always remember that anyone can see your post so exercise constraint when you post photos of your personal life.
Technology has made our lives simpler and more comfortable, but it also requires all of us to know how to protect our data from falling into the wrong hands.