TOKYO – Middleweight Eumir Marcial and flyweight Carlo Paalam, two brave fighters assured of the bronze, look to march on and get a shot at the gold as they resume their Olympic quests in the Kokugikan Arena today (Thursday).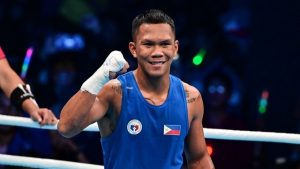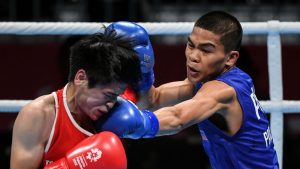 Both are one win away from a silver feat and two from the ultimate prize, but tough assignments await them in the fourth to the last day of boxing action here.
Marcial is up against Ukrainian Oleksandr Khyzhniak who dealt the Filipino a shattering loss at the Strandja International in Bulgaria in 2019.
Paalam, on the other hand, faces Japanese Ryomei Tanaka, and may need a good performance with convincing shots so as not to let sympathetic judging go the hometown bet's way.
Paalam will be the first to be up in the ring at 2:30 p.m. (1:30 p.m. in Manila). Marcial clashes with the Ukrainian at 3:03 p.m.
"Talo si Eumir sa Strandja. Inayaw ko dahil na-injure si Eumir," said coach Ronald Chavez, believing the result of the Bulgaria showdown would not be an indicative of the Marcial-Khyzhniak rematch here.
Coach Don Abnett, for his part, said Marcial is much stronger now. The pride of Zamboanga City has been Mr. Demolition Man here, winning his first two bouts via stoppage.
Paalam also enjoys a great ride, scoring one of the biggest upsets in the Tokyo Games with his conquest of Rio Games gold medalist Shakhobidin Zoirov of Uzbekistan in the quarterfinals.
"We are overjoyed with Carlo's win over the Rio gold medalist. It was an upset that the coaching staff told me was imminent, but we were still concerned until Carlo came out smoking in the first round. He truly looked like a champion," said Association of Boxing Alliances in the Philippines president Ricky Vargas.
The boxing chief has high hopes Paalam will go all the way to win the gold.
"I don't know much about boxing technique and form but I can tell you Carlo's a winner," he said.