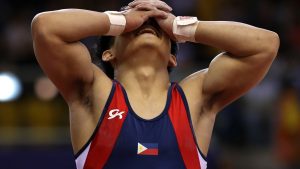 TOKYO—Carlos Yulo finished fourth in men's vault of artistic gymnastics on Monday night, missing the bronze by the skin of his teeth.
"I was that close, very close," Yulo, the youngest at 21 and shortest at 4-foot-11 among the eight protagonists at the Ariake Gymnastics Arena, told Filipino reporters. "But it happened and I can do nothing about that anymore."
He missed the podium after he slipped in his landing in the first of two vaults. Unable to qualify in his pet event, the floor exercise where he was the world champion in 2019, the vault was Yulo's last chance for a medal in his Olympic debut.
South Korea's Shin Jeahwan won the gold medal, Russian Olympic Committee's Denis Ablizian settled for the silver and Armenia's Artur Davtyan snatched the bronze medal.
"It was disappointing because I was doing very well in practice," Yulo said. "But I wondered why I slipped."
Yulo's first vault was—a López consisting of roundoff, back handspring with half turn entry and front layout somersault with half twist—was a failure as his right leg went out the line. But he was excellent in the second vault with a final-best 14.866—a Dragulescu (a handspring double front with half turn)—for a total 14.716 performance.
Yulo said he's not going home to Leveriza soon. "I still have a competition next month, the All Japan Seniors Championships," he said. "I would love to go home and make up lost time with my family."
"My next target is Paris [2024]. I want to make myself stronger and better," he said. "I feel I have something more to show and prove."
But unlike in his rundown to the Tokyo Olympics, Yulo said he will train clandestinely for Paris.
"Next time, I won't be joining tournaments," he said. "I will train by myself until I get stronger and better prepared."
"I will not give up," he stressed.