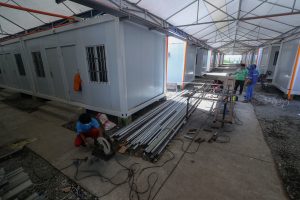 THE LOCAL government here is already preparing another Temporary Treatment and Monitoring Facility (TTMF) for the possible surge of Delta variant cases.
For the TTMFs, Mayor Sara Duterte on Monday said for various uses not only for  isolation.
Currently, the city has a total capacity of 2,642, and 2,186 are used for isolation. There are still  250 beds being prepared right now.
Mayor Sara Duterte said they discussed with the Davao City Covid Task Force the need for another TTMF for the moderate cases, which the hospitals could not accommodate.
"So, atong plan is mag-assign ta ug TTMF na didto maghulat ang moderate cases para sa ilang decking or line up pasulod sa hospitals," she further said.
"Ang critical dili na gyud na sila ma-serve sa atong TTMF because kini sila na klase na cases manginahanglan ni sila ug machines," the Mayor added.
She said the city already logged 1,005 cadavers assisted for cremation.  
"And we have ten kabuok naka-line up for cremation because, unfortunately, they succumbed to COVID-19. So, kanang mga tao dinha sa hospitals nga nanginahanglan ug oxygens, tambal ug kanang mga tao na gina-assist for cremation, these are pieces of evidence to say na tinuod gyud ang COVID-19," she added. "Nga makaapekto siya sa mga tao and basta daghan ang cases it can lead to daghan pud na deaths."
As of July 31, we have 2,690 active cases and our total deaths 1,026 based on the data of the Department of Health.