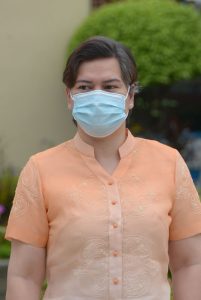 MAYOR Sara Duterte on Monday does not expect the Inter-Agency Task Force to place Davao City under an enhanced community quarantine status like what happened in the National Capital Region. 
Public should be prepared and be consistent in observing minimum health standards after the city recorded three Delta variant confirmed cases.
"Sa pagkakaron (For now) we do not see because our numbers have been the same for the past two weeks, naa ta sa (we are at) moderate risk, we do not see the IATF giving a community quarantine status diri sa Davao City na ECQ," she said over the city-operated radio.
"But in any event, since we do not know how the situation will spin diri sa Davao City, especially with the Delta variant we can see all over the world, angay nga mag-andam ta and angay pud na maging consistent ta sa atoang pag-observe sa minimum health standards para dili musaka atong cases (we should be prepared and be consistent in observing the minimum health standards to avert an increase in cases)," she said.
"Gi-emphasize na nako ni kaniadto, usabon napud nako. Ngano man kabalak-an ang isa ka Delta variant? Tungod kay paspas siya makatakod. Kung daghan ang matakdan, daghan ang manginahanglan ug hospital, and because atong mga hospitals they cannot catch up with the pandemic, they cannot catch up with the needs sa mga daghan kaayo na pasyente therefore daghan ang mamatay (Why worry about the Delta variant? Because it is highly transmissible. If more people are infected, more people need to be hospitalized. And when the hospitals are overwhelmed with the sheer number of patients, many will perish)," she added.
She said that three patients with the Delta variant have all recovered. They revisited the cases after the sequencing results came out. The contact tracers were again tapped to uncover the possible path of transmission. 
The Department of Health (DOH)-Davao reported 178 additional cases of COVID-19 variants in the Davao region, two of them Delta (B.1.617.2) in Davao City. This number brought to 265 the total cases of COVID-19 variants in the region as of July 31. 
The additional cases of variants of concern also include 48 cases of Alpha or B.1.1.7 and 128 cases of Beta or B.1.351. Of this total, Davao City logged 15 cases of Alpha and 73 cases of Beta; Davao del Sur, 5 Beta; Davao del Norte, 30 Alpha and 41 Beta; Davao de Oro, two Alpha and seven Beta; and Davao Oriental, one Alpha and two Beta.
The Alpha variant was first detected in the United Kingdom, the Beta variant in South Africa and the Delta variant in India.
The two additional Delta variant cases in the region were found in Davao City — a 47-year-old male patient and a 36-year-old female patient who were discharged last July 19 and 21, respectively.
These new cases of variants of concern were detected from among the 593 specimens sent by the region for whole genome sequencing at the University of the Philippines-Philippine Genome Center (UP-PGC) on July 1, 8, and 15.