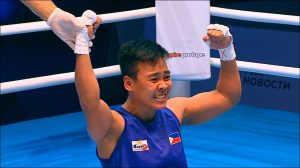 TOKYO—Nesthy Petecio goes for all the marbles—and a share of Philippine sports immortality alongside weightlifter Hidilyn Diaz—when she shoots for the women's featherweight gold medal against Japan's Sena Irie at the Kokugikan Arena.
A victory by Petecio would mean an unprecedented performance by the Philippines, which will be having at least two gold medals in these Tokyo Games after Diaz's historic feat in women's 55 kgs of weightlifting two Mondays ago.
The 29-year-old Petecio will be facing a younger Irie, who at 20 will not be having the hometown advantage. Fans are barred from all competitions in these pandemic Olympics. The fight is set at 12:05 p.m. (Manila time).
At 10:15 a.m. (Manila time), Carlo Paalam will be fighting Olympic and world champion Shakhobidin Zoirov of Uzbekistan in the men's flyweight quarterfinals hoping to land the country's third boxing medal and the fourth overall.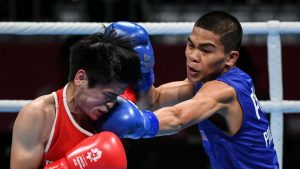 While Eumir Felix Marcial, who already secured the country's bronze last Sunday will face Oleksandr Khyzhniak of Ukraine in the men's middleweight semis on August 5 at 2:03 p.m.
"This means a lot to me, it's my dream and this as importantly my father's dream," shared Petecio.
Petecio comes from a poor family in Santa Cruz, Davao del Sur. Her father Teodoro toils a small piece of land while her mother Prescilla tends to the family.
"A victory will not only be for me but for my family, and to Filipinos who pray for me," Petecio said.
Petecio put together close to convincing victories in these Olympics where the boxing competitions are supervised by a special International Olympic Committee body and not the controversy-marred International Boxing Associaton or AIBA.
She had a rousing Olympic debut by overwhelming the Republic of the Congo's Marcelat Sakobi Matshu, 5-0.
Petecio then booted out the biggest thorn in her weight category, using cunning speed and talent to beat Olympic top seed and world No. 1 Lin Yu-Ting, by a close 3-2 score. At 5-foot-2, Petecio used her quickness in toppling the 5-foot-8 Taiwanese.
In her third fight, Colombian Yeni Marcela Arias Castaneda found the Filipino one tough nut to crack, giving Petecio a ticker to the medal round where another taller opponent waited for her.
Last Saturday, Petecio again had to contend with a for six inches taller than she is. After giving away the first round to measure her opponent, Petecio cracked the whip and again with her speed and relentless punching, beat Italy's Irma Testa, 4-1, to advance to the gold medal play.
That alone was already history as it marked the first time since Mansueto "Onyok" Velasco settled for a silver medal also in boxing at the Atlanta 1996 Olympics.
"I'll go for the gold with everything I've got, and I know that if I follow my coaches, I won't go wrong," she said, referring to Nolito "Boy" Velasco as well as Australian Consultant Don Abnett, Ronald Chavez, Reynaldo Galido and Elmer Pamisa.
"If we boxers are working hard, the more our coaches are working hard," said Petecio, one of three boxers from Mindanao who are championing the country's bid for gold medals in boxing.