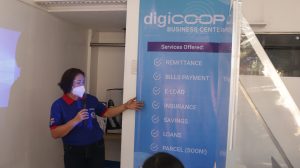 CARMEN, CAGAYAN DE ORO —  As part of its end-to-end digitalization roadmap, First Community Cooperative, Inc. (FICCO), led by its CEO Edgardo Micayabas, launched the first of 10 digiCOOP Business Centers in Mindanao on July 8, 2021. The opening of the first business center, which is located in Carmen, Cagayan de Oro City, coincided with the cooperative's 67th founding anniversary. 
The new center's name—digiCOOP—is an amalgamation of the words "digital" and "cooperative" and references to the name of the online platform being used by FICCO.  
With its plan already in motion, FICCO is set to be the first community cooperative in the Philippines to provide its members access to a full array of digital services.  At the pilot business center in Carmen, individual-members can now easily avail of FICCO's numerous financial and non-financial services. They can register (as a new member),  pay utility bills or loans, send money, e-load their prepaid/postpaid cellphone cards, purchase insurance plans, among others. 
Since the business center connects to the digiCOOP platform, FICCO has upped its ante by also offering individual-members—particularly those who prefer to stay home during the pandemic—access to the same services online. The platform is available to members with Internet connections by using the browser or downloading the application software from the Apple App Store or Google Play. 
"In this time of a pandemic, we have turned to digitalization so that members can continue to avail of our services while observing the government's directive to avoid unnecessary travel [so as to prevent clustering of COVID-19 cases]," said Micayabas during the conference with the local press at the launch. 
 "We enjoin members, especially our officers, to embrace FICCO's move toward digitalization, as this is inevitable. We, too, have to be in step [with technological innovations]," added FICCO Director Rosario B. Ferrer in the vernacular during her welcome address. Ferrer also underscored that while the cooperative's services do come with transaction fees, the rates are more reasonable that those offered by money transfer operators. 
Nine other business centers will be opened this year in the following locations: Valencia (Bukidnon), Malaybalay (Bukidnon), Municipality of Opol (Misamis Oriental), Maranding (Lanao del Norte), Gingoog City (Misamis Oriental), Davao City, Butuan City (Agusan del Norte), Bayugan City (Agusan del Sur), and Iligan City (Lanao del Norte).