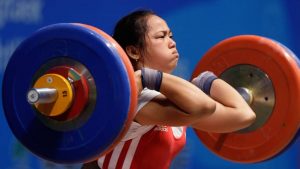 TOKYO —Tokyo Olympics gold medalist Hidilyn Diaz could have seen the last of her Chinese coach Gao Kaiwen.
The demand for Gao's services is expected to rise and offers from wealthy countries could be coming in droves after the Chinese's accomplishment with Diaz in Tokyo, Philippine Sports Commission (PSC) Chairman William Ramirez said.
"The weightlifting world is now looking at Coach Gao," Ramirez told Filipino reporters on Friday. "Mind you, his credentials now look brighter with Hidilyn's success here."
Gao is one of several foreign coaches who handled Filipino athletes at the Tokyo Olympics. Among them are Uzbekistan's Shukhrat Ganiev for rower Cris Nievarez, Ukranian Vitaly Petrov for pole vaulter EJ Obiena and Australian Don Abnett for boxers Nesthy Petecio, Eumir Felix Marcial, Carlo Paalam, and Irish Magno.
Gao, according to PSC chief of staff Marc Velasco, receives a monthly salary of $2,500, with his contract expiring December 31 this year.
Abnett, on the other hand, gets $5,000 a month, although the rate wasn't consistent during the pandemic year 2021, Velasco said.
Ramirez said Gao, like all the other foreign coaches in the PSC payroll, was recommended by the sport's national association, the Samahang Weightlifting ng Pilipinas.
"Compared to the other countries which offer as much as $10,000 a month for their athletes' foreign coaches, there are no guarantees that Coach Gao would be remaining with Hidilyn in case she returns to training for the Paris 2024 Olympics," Ramirez said.
Gao coached Chinese Zhou Lulu in the women's +75 kgs class gold medal in London 2012.