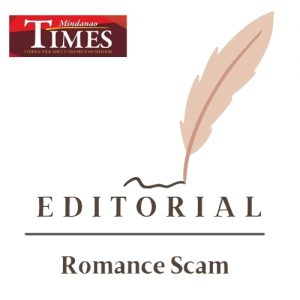 THE HEALTH pandemic, with the ensuing lockdowns that prevent most of us from doing our usual activities, has made people more vulnerable to scams on the internet.  There are campaigns launched on young children who fall prey to cyber sex predators, entrepreneurs who are victimized by spurious  business opportunities and, there are also what  cybercrime authorities call dating scams.
In the US, the Federal Trade Commission reports that victims, majority of them women,  lost around $201 million in 2019 to their cybercrime "relationship." We are unable to get the figures locally yet, but we think this issue should be dragged into the light of day.
A romance scam is defined as an online dating scam wherein "a person is tricked into believing they're in a romantic relationship with someone they met online. In fact, their "other half" is a cybercriminal using a fake identity to gain enough of their victim's trust to ask — or blackmail — them for money."
The introduction to these scams begin in dating sites or apps, but of late, they are popping up on social media, especially on Facebook. It starts with a friend request and as soon as one accepts him or her as a friend, the relationship moves quickly.
One should learn to exercise caution if someone ( a foreigner usually) seeks to be a friend but doesn't list details or has interests and hobbies that eerily match  your own. Some suave moves of these scammers, according to FTC,  include:  professing their love to you surprisingly quickly; they ask you to marry them; and they suddenly have a sob story to tell and you need to send money as their funds cannot be accessed. 
These are challenging times and we have to be mindful of the use of social media and the internet especially as we continue to be under quarantine. 
If you want to know more about this issue, you can check: https://www.consumer.ftc.gov/articles/what-you-need-know-about-romance-scams and
https://us.norton.com/internetsecurity-online-scams-online-dating-scam-statistics.html