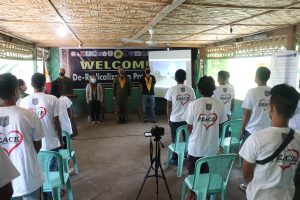 THE military reported that 19 former rebels have been undergoing the de-radicalization process at Balai Pag-Asa, headquarters of 1001st Infantry  Brigade, Brgy Mapaang, Maco, Davao de Oro since Monday.
The program is part of the Enhanced Comprehensive Integration Program and normally lasts for 10 days.
Among those who graced the opening ceremonies were Major General Ernesto C Torres Jr., commander of the 10th Infantry Division; Reverend Father Emerson Luego, priest of Sto Nino Parish, Mabini; and Davao de Oro Vice Gov. Carmen S Zamora.
In his welcome remarks, Brigadier General Luis Rex D Bergante, 1001st Infantry Brigade commander, said the program the former rebels as they are reintegrated to the  mainstream society. 
Bergante also thanked the former insurgents for finally deciding to abandon the armed struggle and live with their families.
On the other hand, Torres acknowledged the efforts of the Davao de Oro provincial government in the implementation of the Whole of Nation Approach to End the Local Communist Armed Conflict.
"Sa atong mga partners, daghan kaayong salamat sa inyong makanunayong pakigkuyog alang sa kalinaw ug kalambuan diri sa atong dapit ug sa inyong pagsuporta sa atong programa para matagaan ug bag-ong tyansa sa kinabuhi ang atong mga igsoon nga mga former rebels nga nailad sa komunistang grupo," Torres said.
Zamora also thanked the former rebels for embracing peace instead of continuing to bear arms.
"Nasayod ako nga dili sayon nga proseso ang DERAD alang kaninyo,apang kaning unang adlaw mao kini ang unang tikang nga inyong gihimo. Diri palang daan sa unang lakang nga inyong gihimo, magmadaugon kitang tanan" Zamora said.