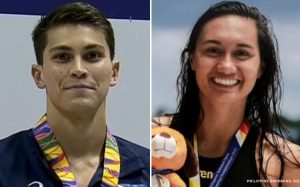 TOKYO—Filipino swimmer Remedy Rule qualified for the semifinals of the women's 200-meter butterfly after she placed 15th overall in the heats at the Tokyo Aquatics Center Tuesday night.
The 24-year-old Southeast Asian Games silver medalist clocked in at 2:12.23 in Heat 3. She finished last but still squeezed into the semifinals scheduled for Wednesday.
Rule failed to qualify for the semifinals of the women's 100-meter butterfly.
Luke Gebbie, meanwhile, failed in his bid in the men's 100-meter freestyle. His effort did not go for naught, however.
Gebbie finished with a time of 49.64 seconds and ranked just 35th out of 71 swimmers, but came away with a new Philippine record.
Only the top 16 qualify for the semifinals.