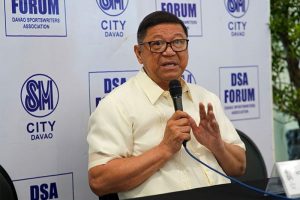 The Hidilyn model works.
It is not the first time that Philippine Sports Commission Chairman Butch Ramirez mentions a trial system they adopted in the sports agency to make every effort to produce an Olympic gold.
They have called it the Hidilyn model, long before Hidilyn Diaz made history by winning the country's first Olympic gold, 97 years after the Philippines first made its Olympic foray in 1927.
After her silver Olympic victory in 2016, the PSC's board approved the requests of Samahang Weightlifiting ng Pilipinas for a support team for Diaz as she set her sights for this 2020 Olympic edition.
"We have limited resources but we saw her potential so we took the chance," related Ramirez.
The PSC gave its support for what is now called Team HD – foreign coach, strength and conditioning coach, masseuse, sports psychologist and a sports nutritionist. Diaz went on to keep winning for flag and country.
Seeing the effect, Ramirez and the PSC board of commissioners provided the same support, based on their submitted requirements, for Caloy Yulo, EJ Obiena, Kiyomi Watanabe, among others.
"I have always said, experience is an advantage. Hidilyn took 4 Olympic cycles to finally attain her golden dream," explained the sports chief, whose own experience as a two-term Chairman of the PSC helped him lead effectively.
The PSC has quietly supported the national team, spending around 2.7 billion to cover the expenses of the national team. This covers foreign exposures, training, equipment, meals supplies and allowances. Ramirez disclosed that looking forward to the 2024 Paris Olympics now becomes a rosier picture to look forward to. By then we would have a more mature team to field.
"I think it gives everyone more impetus to plan and start their preparations," said Ramirez, smiling "pero dito muna tayo, savor the moment and keep praying for more moments of victories for our athletes and the Filipino people."